These sweet, caramel covered biscuits are easy to make and sure to be a hit at breakfast.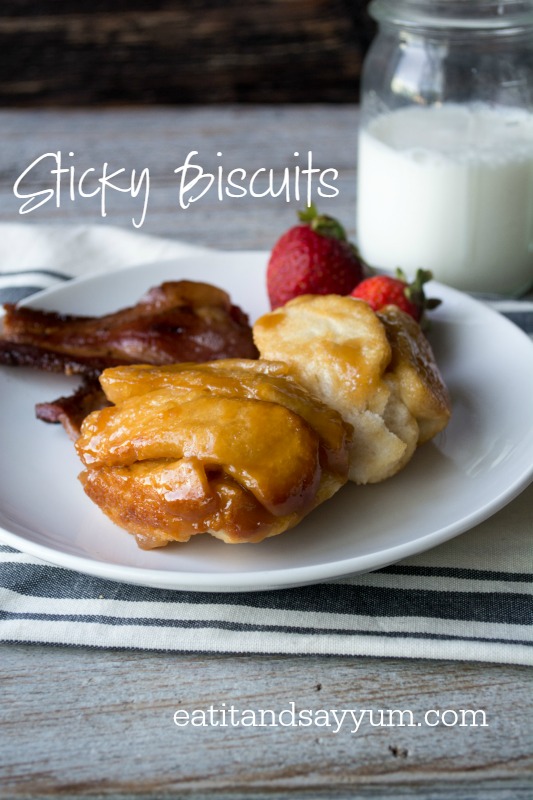 Breakfast is, of course, one of the most important meals of the day.  Top 3, right?  😉
Since school is out for summer, I actually have a little more time in the mornings to make some fun breakfasts.  Not that I do that everyday, let's not get carried away here…
Anyway, my son keeps requesting these sticky biscuits.  My mom made them for me when I was a kid, so I love that my kids now enjoy them.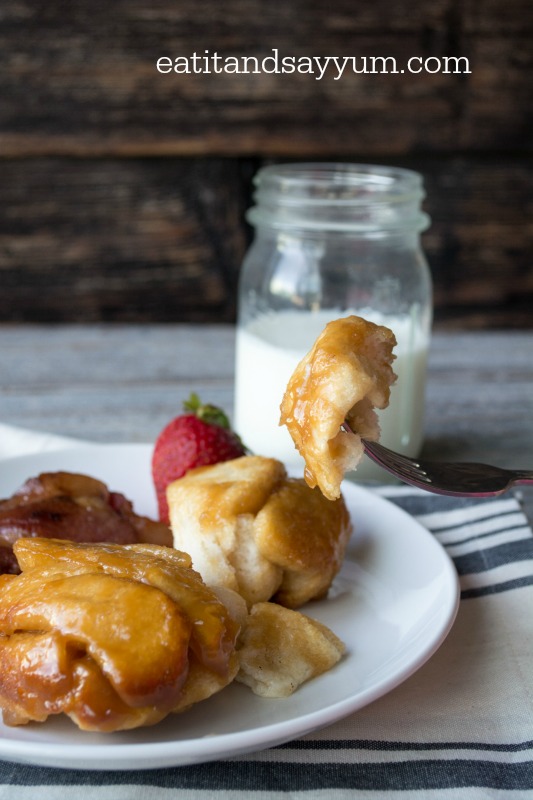 I use the buttermilk biscuits that come in tubes.  They make this an easy dish, and those biscuits hold up well when I'm mixing them with the caramel.
I think these are similar to what some people call Monkey bread, I've never actually had that.  And you don't need a bundt pan to make these.  Which is good, 'cause I don't have one those.
You mix the caramel ingredients in a pot on the stove, then add the biscuits.  Everything bakes in a 9×13 pan in the oven, and then you invert that onto a cookie sheet so the caramel oozes back over the biscuits.  So yummy.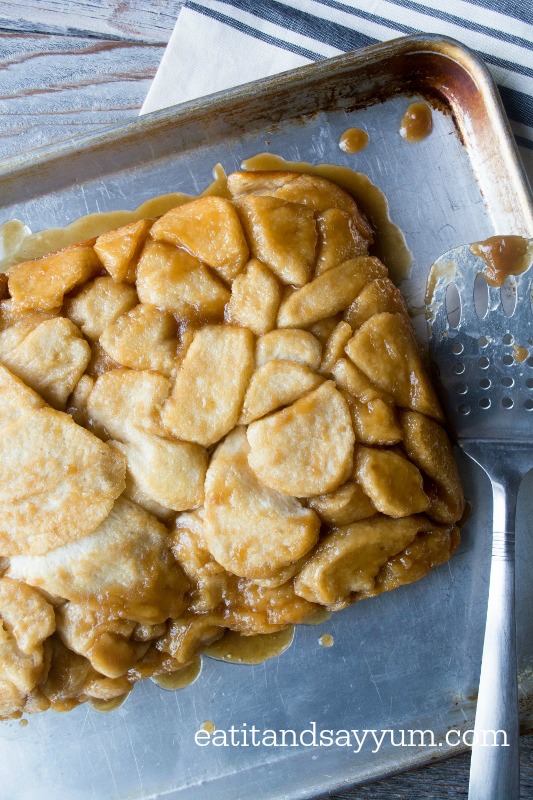 We just pull the biscuits apart with a spatula and onto our plates.  And as the name suggest, these can be sticky.  So I recommend using a fork to eat them.  😉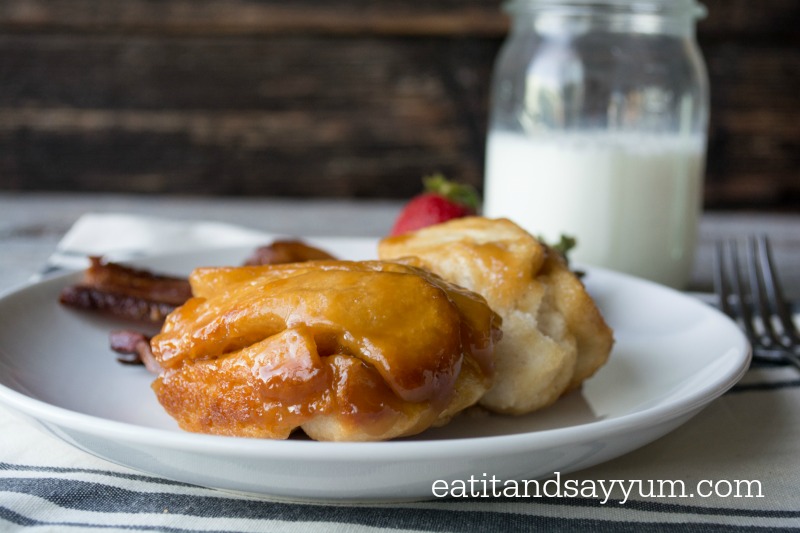 The edges get a litter crispier than the center does, but both are delicious.  Just make sure you bake them long enough to cook the biscuits in the center.
Ingredients
3-4 buttermilk biscuit tubes
1/2 cup butter
1 cup brown sugar
1/2 cup corn syrup
1/2 cup chopped nuts (walnuts, pecans, etc.)
Instructions
Preheat oven to 400 degrees. In a large pot over medium-high heat, melt the butter with the brown sugar. Add the nuts if using. Open the tubes of biscuits and cut each biscuit in half with kitchen shears as you drop it in the pot. Gently stir the biscuits to cover them with the caramel.
Remove the pot from heat and pour the biscuit mixture into a greased 9×13 pan. Drizzle the corn syrup over the top of the biscuits. Bake for 15-20 minutes, until the biscuits in the center are cooked. Remove from oven and place a foil lined (optional- for easy clean up) cookie sheet over top of the pan, holding the cookie sheet and the pan on both sides, invert them so the cookie sheet is on the bottom. The biscuits will fall onto the foil lined sheet. The caramel will redistribute over the biscuits. Serve while warm.
http://eatitandsayyum.com/sticky-biscuits/
These would be great with: