While the short cake is baking I slice the strawberries.  You will need about 3-4 cups sliced.  This all depends on how many strawberries you like.  I like a lot.
I toss the strawberries with some sugar and cold water, then set them aside.
Now you can whip up the whipped cream.  It only take a few minutes, so easy.
I assemble everything with the short cake on the bottom, then the strawberries and then the whipped cream.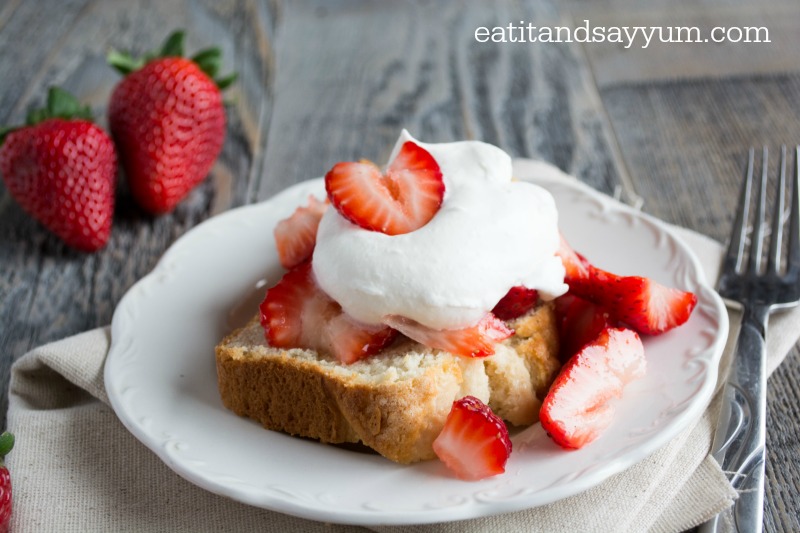 Spring and Summer are definitely the best time of year for Strawberry Short Cakes because strawberries are ripe then.  But you can really make them year round.  Even if the strawberries aren't super sweet, you are going to add sugar to them.  Still works.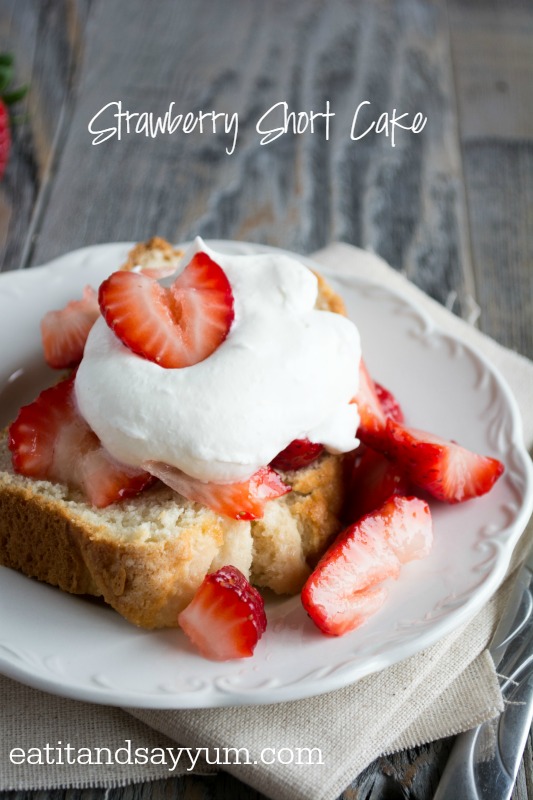 This short cake slices into about 10 servings, depending on the size of your loaf pan, and how thick you cut the cake.
I could eat this for breakfast and lunch, as well as dessert.  It has fruit so it's healthy, right?  😉
Wanna bite?
Ingredients
Short Cake: 2 1/2 cups all purpose flour
1 Tbs baking powder
1 tsp salt
1/4 tsp baking soda
6 Tbs sugar
4 Tbs butter- melted
1 tsp vanilla
2 cups whole milk
1 tsp sugar- for top of crust
Strawberry topping: 3-4 cups of sliced strawberries- measured after slicing
1 Tbs sugar
2-3 Tbs cold water
Whipped Cream:
1 1/2 cups heavy whipping cream
5 Tbs powdered sugar
Optional: pinch of orange or lemon zest
Instructions
Preheat oven to 375 degrees. In a medium/ large mixing bowl combine the flour, 6 Tbs sugar, salt, baking powder, baking soda and whisk all together. Then add the melted butter, milk, and vanilla. Mix with an electric hand mixer, just until fully combined. Pour the batter into a greased loaf pan, then sprinkle the remaining 1 tsp sugar over top of the batter. Bake for about 40 minutes, or until a toothpick inserted near the center of the loaf comes out mostly clean. Dry crumbs are okay.
While the cake is baking wash and slice the strawberries until you have about 3-4 cups, sliced. Sprinkle the 1 Tbs of sugar over the sliced strawberries and add the water. Gently toss to dissolve the sugar and coat the strawberries. Set aside until ready to serve. Best if kept in the fridge until ready.
Add the heavy whipping cream to a large mixing bowl. Begin to beat with an electric hand mixer on medium- high speed, when it starts to thicken add the powdered sugar. Continue to beat until peaks form when the beaters are pulled up from the whipped cream. I like soft peaks, but you can go until stiff peaks form if you choose.
To serve, slice the cake into about 1/2- 3/4 inch slices. Top each slice with a couple scoops of strawberries and a dollop of whipped cream. (Or two or three dollops…)
Wrap any left over cake tightly in plastic wrap, store on the counter. Store strawberries and whipped cream in the fridge.
http://eatitandsayyum.com/strawberry-short-cake/
You might also like: