This post was sponsored by Omaha Steaks.  The recipe, photos, and opinions are all my own.  The Beef Loin Strip Steak was provided by Omaha Steaks.
Who's a steak fan?
Me!!
I love getting products from Omaha Steaks.  But when I got this Strip Steak I wasn't really sure what to expect.  Not that I didn't think it would be good, I just didn't know much about this cut of steak.
But let me tell you how happily surprised I was when I got to eat it.
It was AMAZING.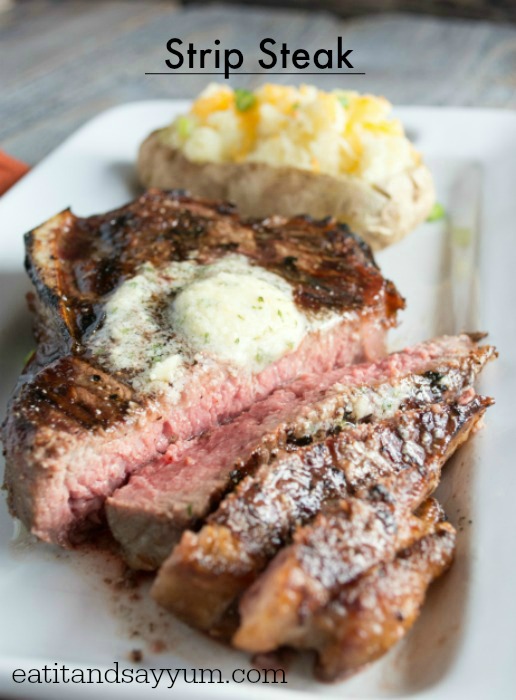 For my honeymoon, my husband and I went to Reno, NV.  Super romantic I know.
While there we ate at a steakhouse inside the hotel we were staying at.  (We actually never even went outside the hotel for the 3 days we were there…)
Anyway, I ordered a steak that came with butter on the top.  And it was melting all over the meat.  And it was probably the second best experience of the whole trip.  😉
My husband and I still talk about that steak. It was amazing.  Ever since then that is just how I like my steaks.  Tender, with some melting butter.
So I knew right away what I wanted to do with these Strip Steaks.  I set to work on some compound butter.
I mixed some fresh garlic, Parmesan cheese, and fresh parsley with some butter.  Then rolled it up in some plastic wrap and stuck it in the freezer.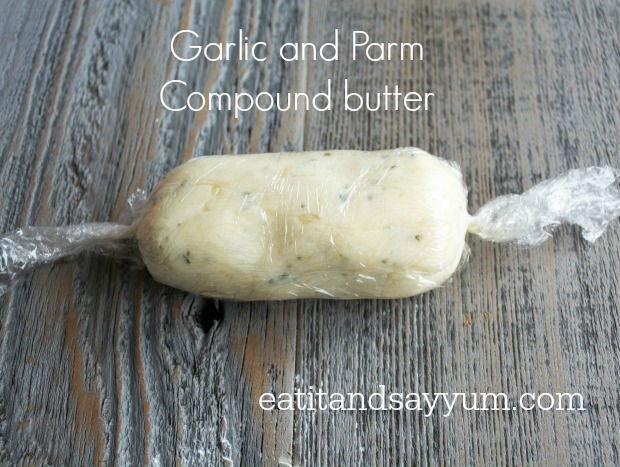 Now, when the steaks are ready I just slice a little bit of the butter off and let it melt on the steak.  SO YUM!
For the steaks, I had my husband grill them.  We have to take advantage of the grill when the weather is nice.  I just love the flavor grilling gives the meat.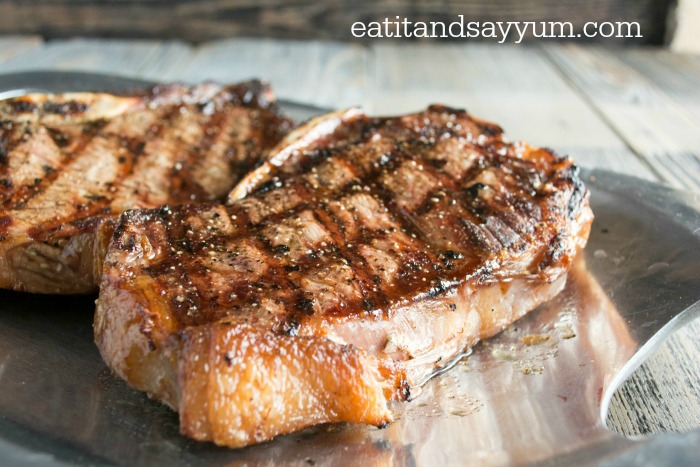 SO, if you're craving a good steak I highly recommend giving the steaks at Omaha Steaks a try.
And don't forget the Garlic Parmesan Butter!!
Strip Steak- with compound butter
Ingredients
Garlic Parmesan Butter: ½ cup butter- just cooler than room temp, not too soft
¼ cup powdered (finely grated) Parmesan cheese
1 clove of garlic- finely minced
½ tsp parsley flakes (or choice of herb)
Steaks: 1 package of 2, 16 oz Bone In Strip Steaks
2-3 T Olive oil
Salt and pepper
2 slices of the Garlic Parmesan Butter
Instructions
While butter is still slightly cool, mix it with the Parmesan cheese, minced garlic, and parsley.
Place the butter on a piece of plastic wrap and wrap it to close then twist the ends together to seal. Shape the butter into a cylinder as you wrap it, and freeze until ready to serve.
Preheat grill on high. Brush each side of the steaks with the olive oil, and season with salt and pepper.
Lower grill temperature to medium heat. Cook steaks about 3-5 minutes on each side, depending on the thickness of the steaks, and how well done you like them.
Remove the steaks from the grill and place a slice of the Garlic Parmesan Butter on top, then let rest for 3-5 minutes before cutting.
http://eatitandsayyum.com/strip-steak/
So tell me, what is your favorite cut of steak?
You might also like: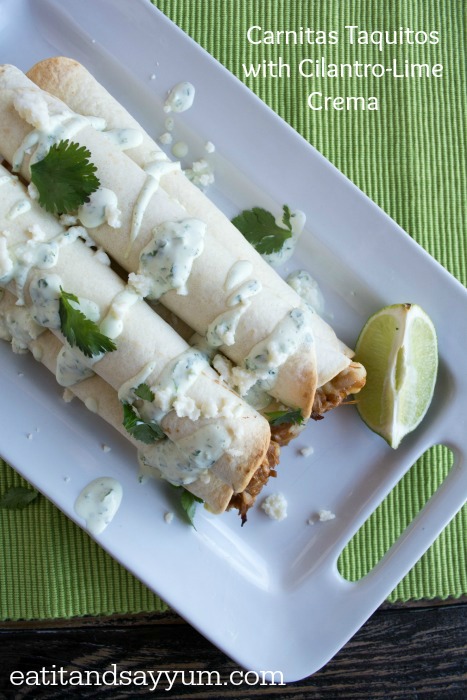 Garlic Chicken and Stuffed Pasta