Last week I shared my Marshmallow Fruit Dip.  Today I want to share another fun use for that same dip.  Let me introduce Sugar Cookie Fruit Cups.  They are pretty easy to make, and are a fun, hand-held dessert that kids and grown-ups will like.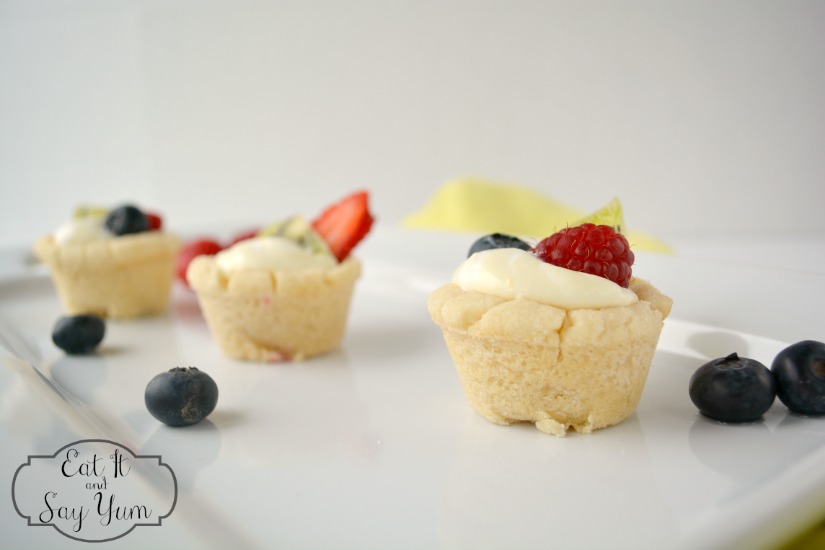 I took my sugar cookie dough and rolled it into 1 inch balls, and placed each ball in the cavity of a mini muffin tin.  (A tip about the dough: I usually use all butter when making sugar cookies, but for these little cups to hold their shape better, I made a dough using butter AND shortening.)  Then I used this handy ball- tool to depress the center of each ball and make a cup shape.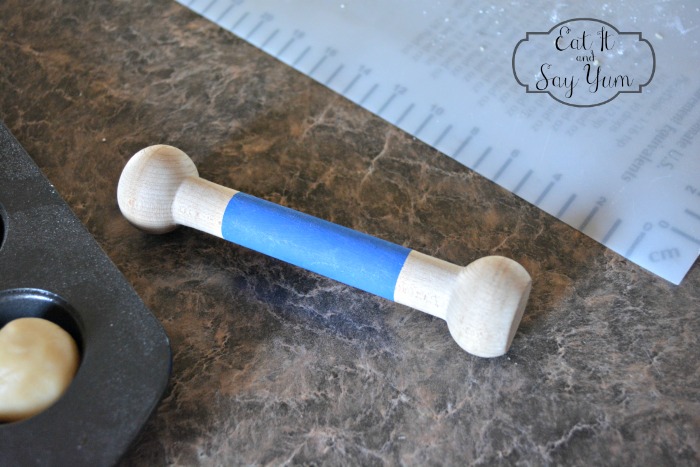 If you don't have a ball-tool like this, you could just as easily use your thumb, or the blunt end of a knife and just press the dough down to make this shape.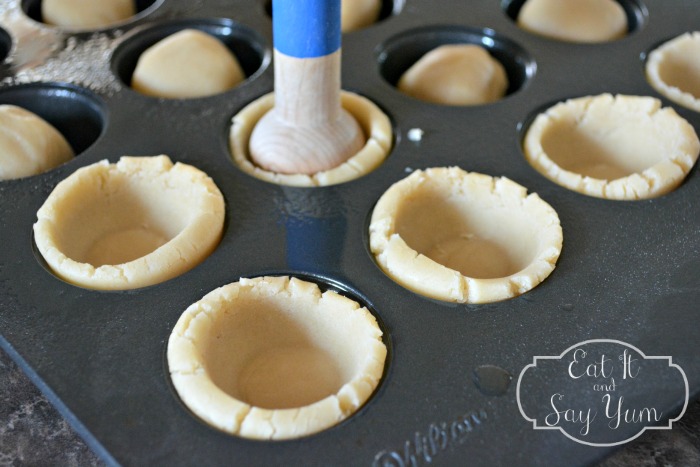 Pop the pan in the oven and let these cook.  When you take the pan out of the oven, the dough may have sunk in a little.  Just use the blunt end of a knife to push the centers down, or the sides back up.  Be sure to do any fixing BEFORE they cool, or else it will be too late to change the shape.
Once cooked and cooled, you can remove them from the pan and fill each little cup with the Marshmallow Fruit Dip, and a few slices of fresh fruit.  I used a plastic zipper bag, with the tip of one corner cut off, filled with the marshmallow dip to easily fill each cookie cup.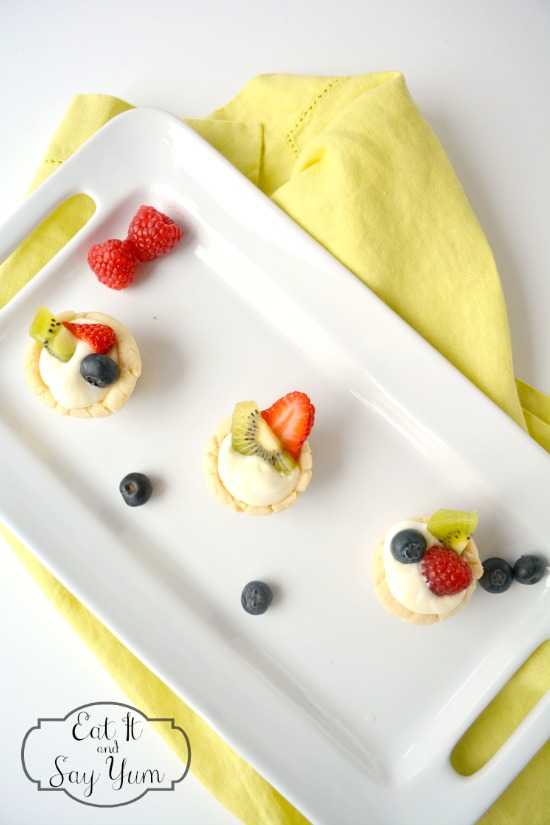 I used strawberries, raspberries, kiwi, and bananas.  However, peaches, pineapple, grapes, or pretty much any fruit would work in these.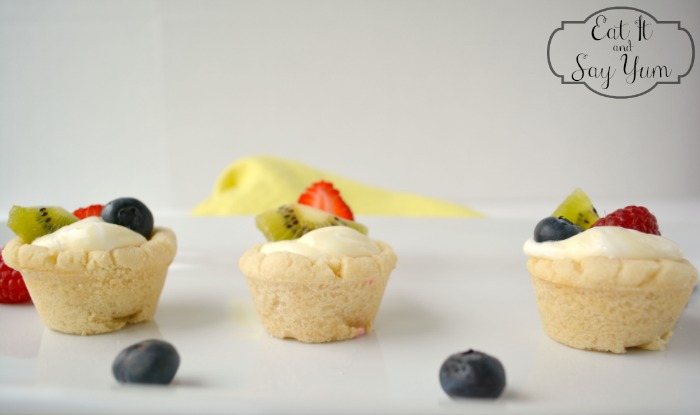 For a little twist, I rolled some of the dough in colored sugar sprinkles.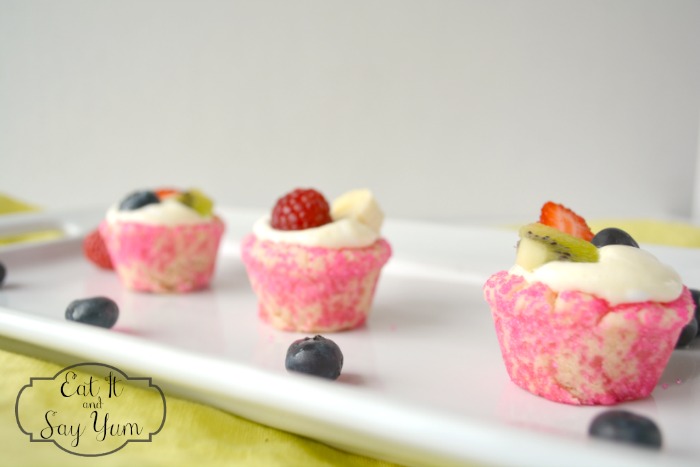 The colored sprinkles make these fun for different holidays, as you can change the colors according to each holiday.
For Spring and Easter, I did some pink and green.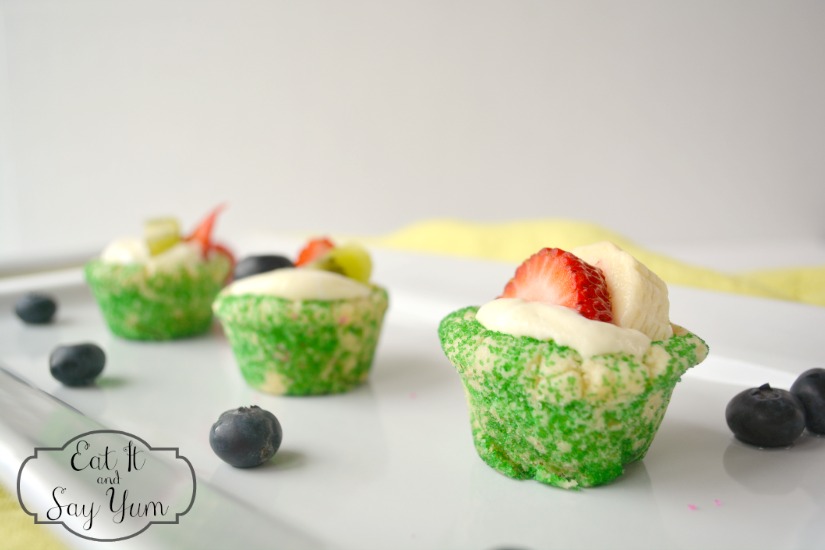 These would also be great at a baby shower, or birthday party, etc.  Change the color sprinkles to fit your theme!
Sugar Cookie Fruit Dip Cups
Ingredients
1/2 cup butter- room temperature
1/2 cup shortening
2 Tbs sour cream
1 1/2 tsp vanilla
1 egg- room temperature
Scant 3 cups flour (3 cups with 1-2 Tbs removed)
1/2 tsp salt
1 1/2 tsp baking powder
Optional: 1/2 cup sugar or colored sugar sprinkles
Marshmallow Dip (see link in post) and fresh fruit for filling
Instructions
Preheat oven to 350 degrees. Grease a mini muffin tin and set aside.
Cream the butter and shortening in a stand mixer or with a hand mixer. Add sugar and continue to beat until mixture is light and fluffy. Add egg, sour cream, and vanilla, and beat to combine. Add the salt, and baking powder, and slowly add the flour, while stirring, until fully incorporated.
Roll dough into 1 inch balls, roll in sugar or colored sugar sprinkles- if desired. Place each ball in a cavity of a greased mini muffin tin. Using your thumb or the blunt end of a knife, press on the balls to make them into little cup shapes. Bake for 9-10 minutes, until beginning to turn golden brown. Remove pan from oven and let the cookie cups cool in the pan. This will let them continue to bake, and hold their shape better. If the dough has sunk in while baking, use the end of a knife again to carefully reshape them. Once cooled, they should pop out of the pan when you gently slide a knife blade down between the side of the pan and the cookie cup.
Use prepared marshmallow dip and fresh fruit to fill the cookie cups. Fill a plastic zipper bag, or a pastry bag, with 1 cup of the marshmallow dip. Snip the corner of the zipper bag, if using that, and gently squeeze the dip into the cookie cup. Top with the fresh fruit.
http://eatitandsayyum.com/sugar-cookie-fruit-dip-cups/
See where I link up.
You might also like: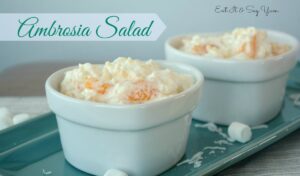 Le Grande Eggs Breakfast Casserole