Sugared fruit is so pretty and makes a great decoration for a holiday table, or added to desserts.
These sugared cranberries are easy to make, even though they require some time.  But with how beautiful they turn out, they are so worth it!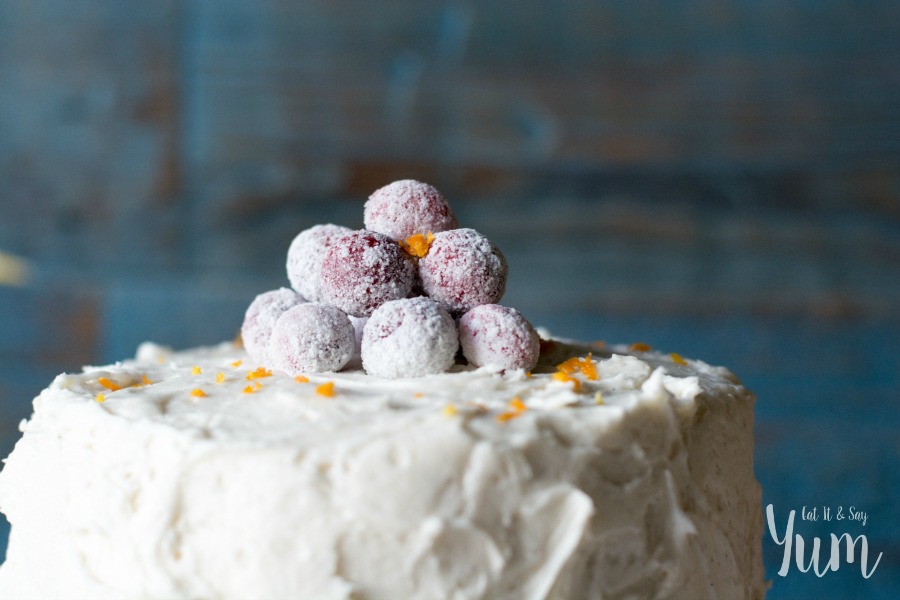 I got two bags of fresh cranberries in my Bountiful Basket last month, and I needed to figure out a way to use them.  I like to freeze them and add them to smoothies in the morning, but I also came up with a cake idea, so I used them in there, too.
Get the cake recipe on 365 Days of Baking in my contributor post.
To top the cake I made these sugared cranberries.  If you like a tart snack, these are great for eating plain, too.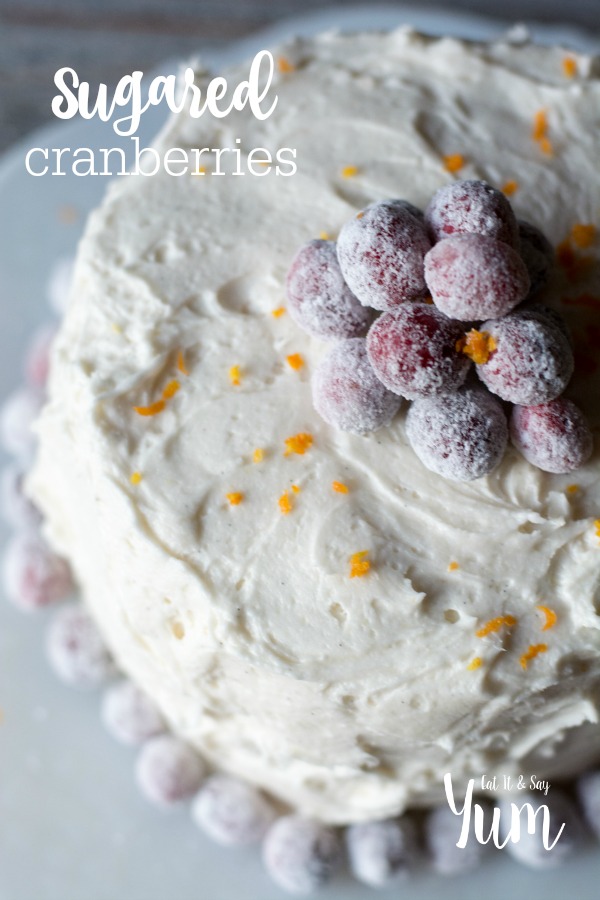 Ingredients
1 bag of fresh cranberries (3 cups)
2 1/4 cups sugar
1 1/2 cups water
1 vanilla bean- cut open
Instructions
In a medium pot over low heat, add the water, 1 1/2 cups of the sugar, and stir until the sugar is dissolved. Remove the pan from the heat and add the cranberries. Stir them a little to coat with the sugar water and then let them sit for at least 30 minutes, but up to 8 hours.
Drain the cranberries and let them sit in a strainer for another 15-20 minutes. Discard the vanilla bean.
In a blender, add the remaining 3/4 cup of sugar and blend for a few seconds to get a very fine sugar.
Pour the berries onto a cookie sheet and sprinkle all of the sugar over top. Gently roll the berries around until they are all covered with the sugar. Let sit for another 30 minutes or so, until they are dry.
Use berries as a garnish for a variety of dishes, or on desserts.
http://eatitandsayyum.com/sugared-cranberries/
You might also like: