One of my favorite places to eat, when I head back to my home town in Central California, are the hole-in-the-wall taco shops.  They are SO good.
Something that all these little taco shops have in common (besides great carne asada) is the pickled jalapenos and carrots.
They are a staple in California.
So, today I bring you an easy homemade recipe for these gems.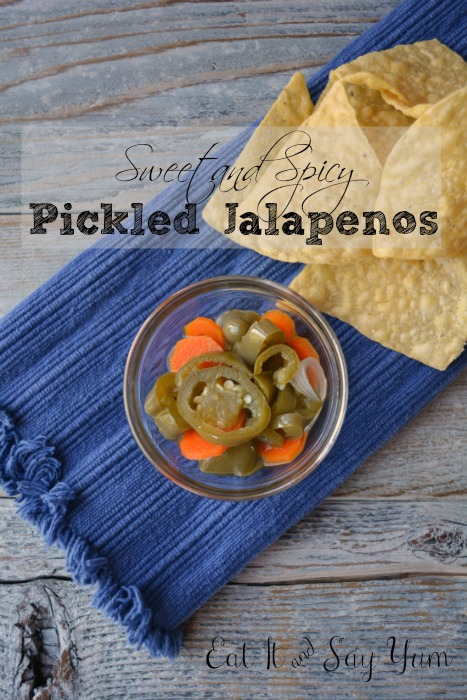 I love this recipe because the jalapenos come out with a little sweetness as well as spice.  I left all the seeds in, and I thought the amount of spice was great.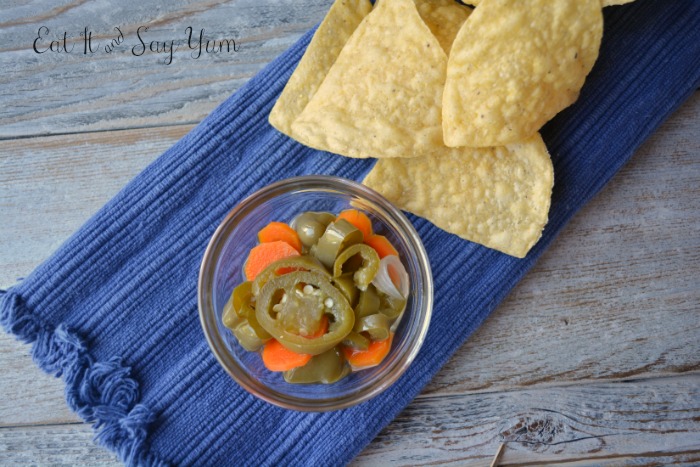 These only take about 20 minutes from start to finish.  And they are a great substitute for the store bought pickled jalapenos.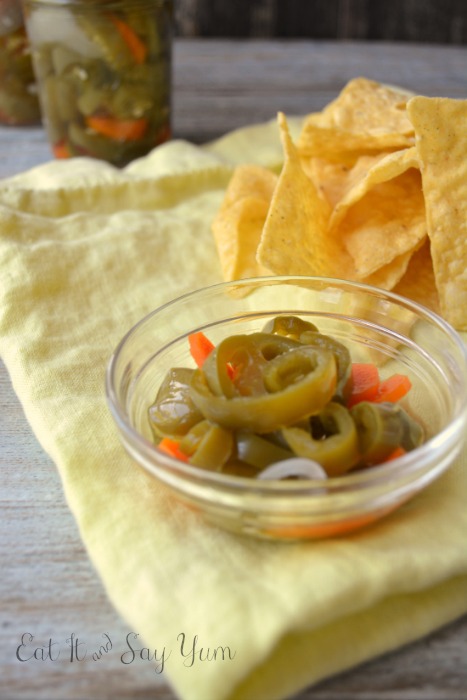 You can eat these on chips, and they are great. Or add them to your favorite Mexican foods; tacos, burritos, enchiladas, nachos, etc.  They would also be great in baked beans, salads, burgers, or any where you want a little kick.
I like to use pickled jalapenos in some dips, and these are perfect for that, too!
If you aren't a fan of the spicy carrots, feel free to leave those out.  This recipe is easily adapted to suit your tastes.
If you don't want as much spice, you can remove the seeds from the jalapenos before adding them to the brine.  You can leave out the carrot and add another jalapeno.  If you don't like the sweetness, add a little less sugar next time.  (But try them this way first, I love that hint of sweet!)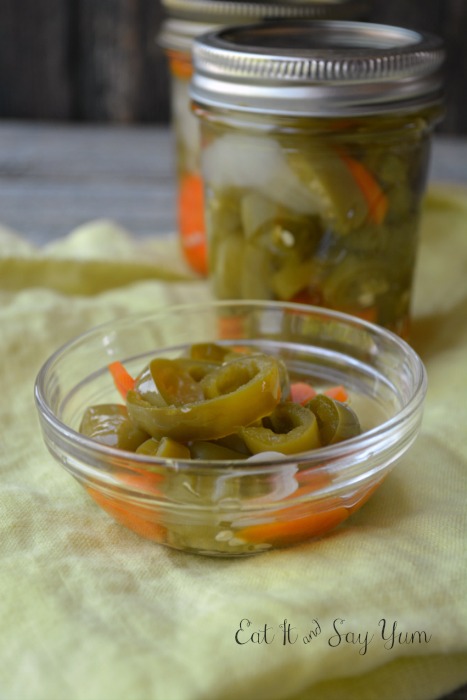 This recipe is made to store in the fridge.  You aren't canning the jars for safe pantry storage.  A jar should last about 2 weeks in the fridge, though.  Well, that is if you don't eat them before that.
Sweet and Spicy Pickled Jalapenos- with Carrots and Onions
Ingredients
2 cups vinegar (I use white vinegar, but for a little different flavor you can try cider vinegar)
1 cup water
1/2 cup sugar
2 Tbs salt
2 cloves garlic- crushed, or 1/2 Tbs minced
1-3 carrots
1/2 medium white onion
1/2 tsp oregano
5 fresh jalapenos
3, 8 oz jars with lids
Instructions
In a medium pot, over high heat, add the water, vinegar, sugar, salt, garlic, and oregano. Cover with a lid. While this is coming to a boil, peel and slice the carrot(s). Once the brine is boiling add the carrots, and turn heat down to medium-high. Now you can slice the onion into wedges, about 4. Add the onion.
Now wash and slice the jalapenos into rings. They should be about 1/4 inch thick. You can remove the seeds if you want. Slide the blade of the knife around the inside of each jalapeno ring, to get the seeds out. When all the jalapenos are sliced, add them to the pot. Place the lid on and let boil for 4-8 minutes. The jalapenos should turn a darker green color. Once the right color is achieved, remove the pot from the heat and take off the lid, allowing the contents to cool.
Once slightly cooled, use a slotted spoon to transfer the jalapenos, carrots, and onions to a clean jar. After filling the jars, use a strainer to strain the brine as you pour it into each jar. Fill almost to the top, and place the lid on. Store jars in the refrigerator for about two weeks. (Tupperware will work in place of the jars.)
http://eatitandsayyum.com/sweet-and-spicy-pickled-jalapenos-with-carrots-and-onions/
Recipe makes about 3, 8 oz jars.
Thanks to my little sis for teaching me to make these!
See where I link up.
You might also like: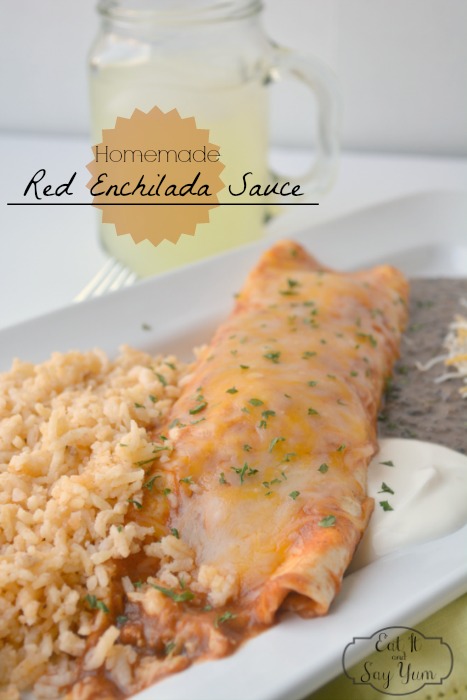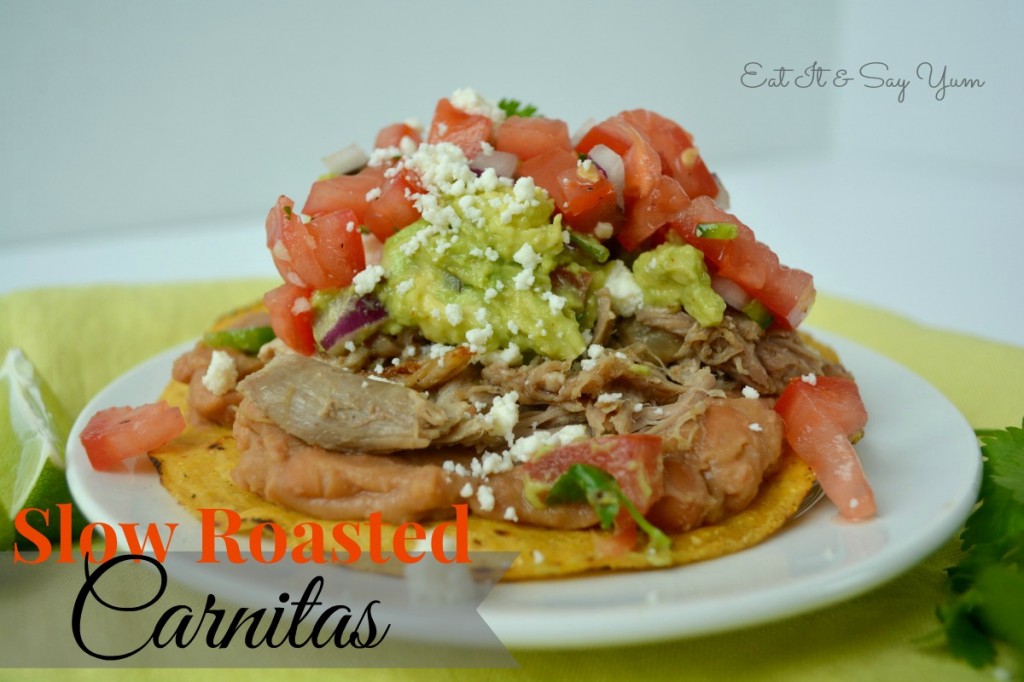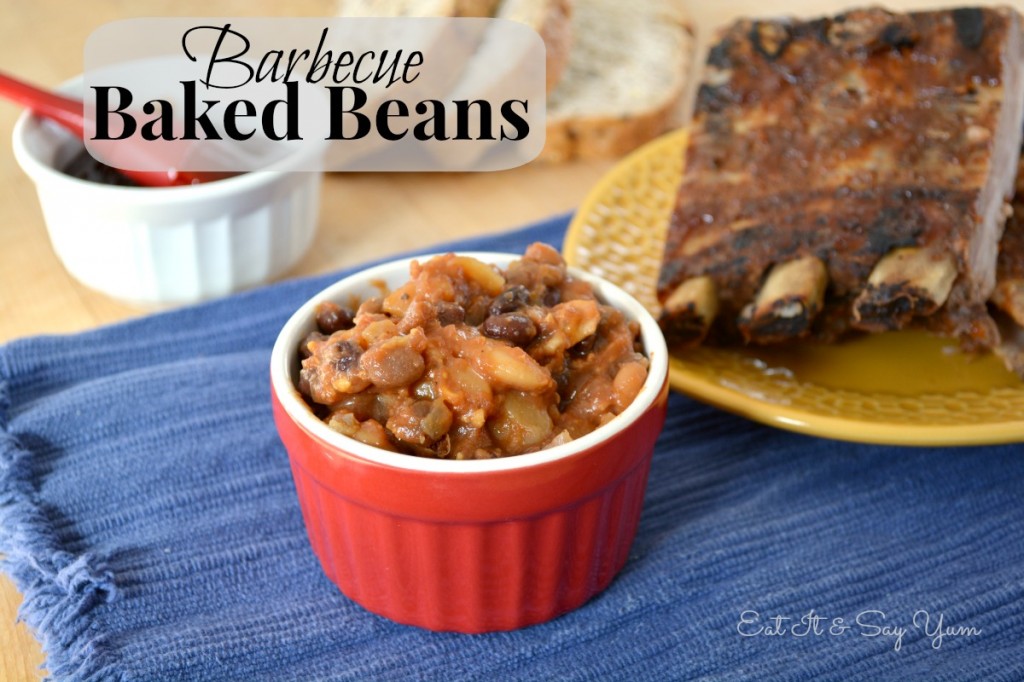 Homemade Pomegranate Jelly