One of my goals when first starting this blog was to cook my way through my family's cook book.  There are tons of recipes in it that I grew up eating, but there are also recipes that I'm not too familiar with.  So I have been enjoying putting my own twist on recipes from my mom, grandmother, great aunts, and a whole slew of other family and friends.  This recipe is adapted from one in that family cook book.
Finding a dinner that everyone in my family loves can be tricky sometimes.  But this meatloaf is definitely a winner at my house!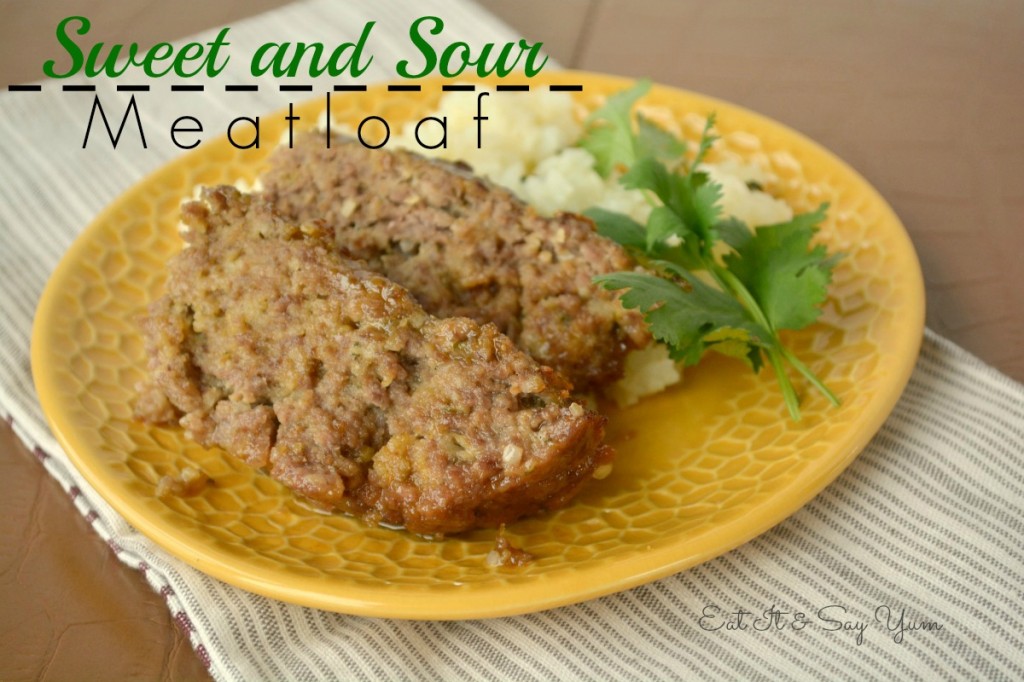 Now I know, to some people, meatloaf might not sound all that exciting.  But trust me, this stuff is amazing.  It is SO tender, and is basted with a delicious sweet and sour sauce.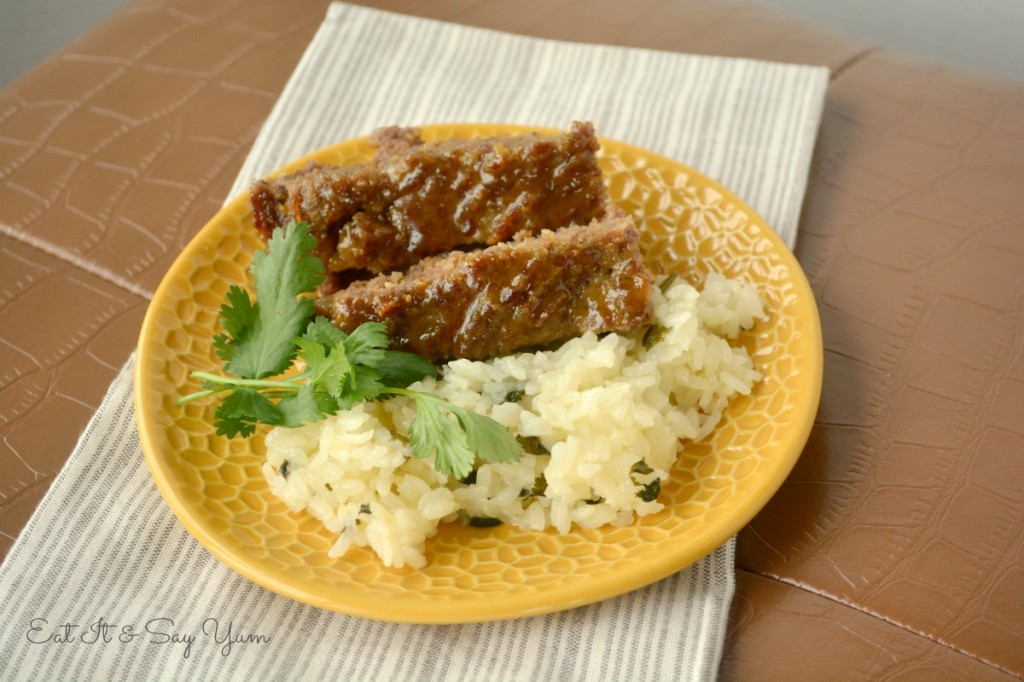 The sauce is basted on during the cook time so it gets a little caramelized and really soaks into the meat.  And it's not your typical sweet and sour sauce.  Instead of having ketchup it has mustard, and even some pineapple juice.  (You can always double this sauce recipe if you want extra to drizzle on the rice.)
Tender Sweet and Sour Meatloaf
Ingredients
Meatloaf: 3 lbs ground beef
2 eggs- slightly beaten
1 1/2 cups bread crumbs
1/2 cup chopped onion
1/2 cup milk
1/4 cup pineapple juice
Salt and Pepper- to your preference
Sweet and Sour Sauce: 1/2 cup brown sugar
1 Tbs prepared mustard
2 Tbs vinegar
2 Tbs pineapple juice
Instructions
Preheat oven to 350 degrees. In a large mixing bowl combine the bread crumbs, eggs, milk, onion, pineapple juice. Add the meat and mix together til fully combined using your hands or a fork.
Place into a greased 8×8 pan and bake at 350 degrees. Set time for 35 minutes.
While the meat loaf is baking, combine all the sweet and sour sauce ingredients into a mixing bowl and stir to combine, and dissolve sugar.
After 35 minutes of baking drizzle half of the sweet and sour sauce over the meat. Bake another 15-20 minutes and check to see if the meat is thoroughly cooked by looking for any pink remaining in the middle of the loaf, or use a meat thermometer. Internal temperature should reach 160 degrees to be done. If not done add a few more minutes and check again then. Each time you remove the meat loaf from the oven, baste on more of the sauce.
When finished cooking, baste the remaining sauce over the meat. Let sit a minute or two before serving. Serve over rice or noodles. (I suggest my Pineapple Cilantro Rice.)
http://eatitandsayyum.com/tender-sweet-and-sour-meatloaf/
My 6 year old daughter had at least FOUR servings of this at dinner.  It was THAT good!
I served the meatloaf over a bed of Pineapple and Cilantro rice.  It was the perfect compliment to the sweet and sour flavors.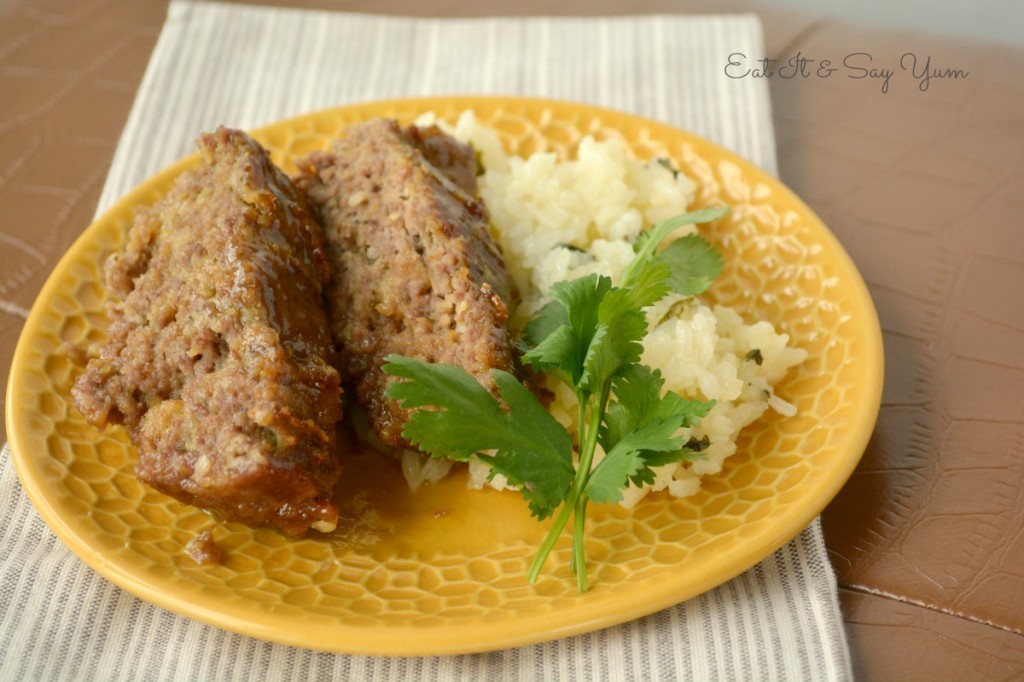 Give this a try, I'd love to hear if your family loves this as much as mine does!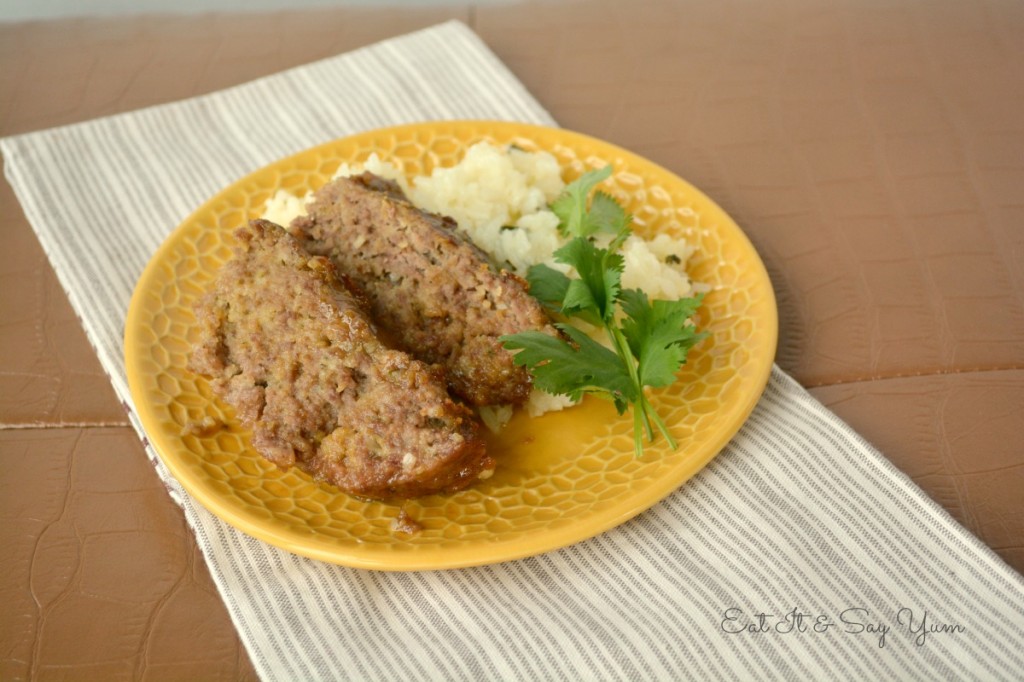 See where I like to link up here.
Also linked up with Hun, What's for dinner?