Hey friends!  How was your Thanksgiving?!
Are you busy with all the Black Friday shopping today?
Today I'm sharing a yummy burrito recipe.  It's not your typical burrito.
It's a Teriyaki Chicken Burrito.
During college I worked at a little restaurant called New York Burrito.
They make all kinds of yummy burritos, and not the usual bean and cheese.  Unique kinds, like Teriyaki Chicken.  🙂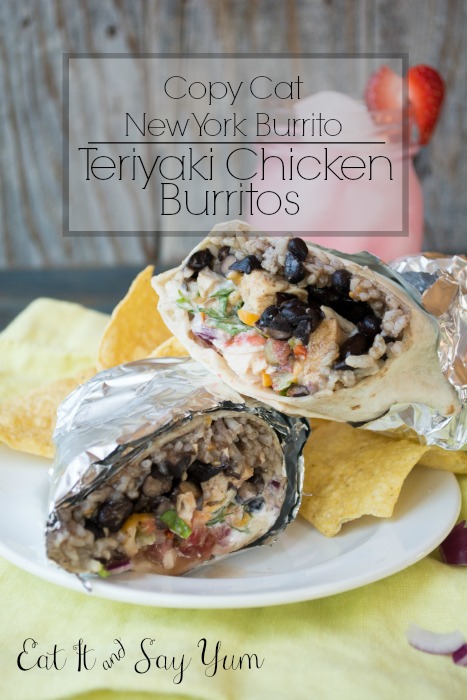 I introduced these to my family when I would go home to visit on my school breaks.
They loved them, too.  In fact, my sister in-law has been bugging me for a while to get this recipe up here on the blog.  You can thank her.  😉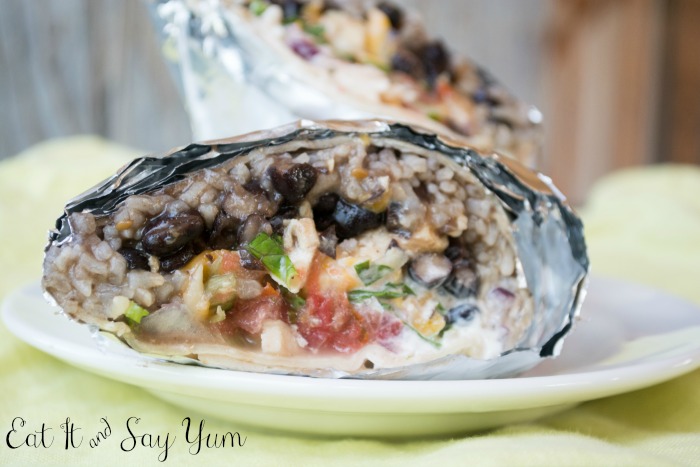 What makes these burritos so much like the original is the Teriyaki sauce.  You gotta have the right kind.
At work we used Kikkoman Teriyaki Sauce.  (It may say baste and glaze, but don't use the marinade version.)  Even the kind with the sesame seeds is good.  Or use my recipe for Teriyaki Chicken with the marinade as the sauce.
Any other kind of sauce won't have the exact right flavor.  But, do what you want.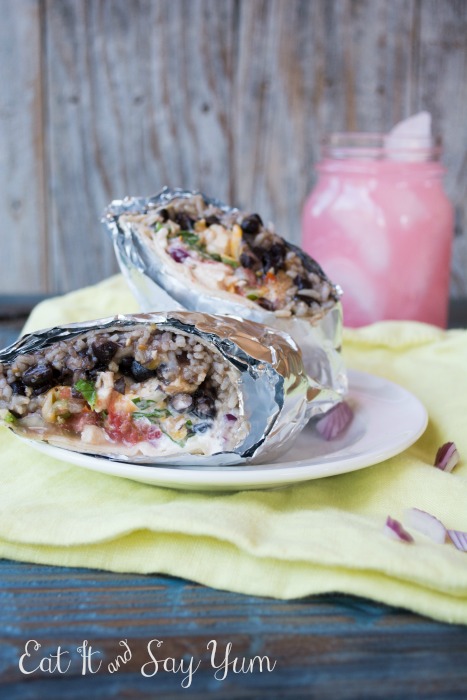 These burritos are meant to be big, so use a large tortilla.
Do you know how to properly fold a burrito?  I mean so it doesn't come apart?  Let me show you…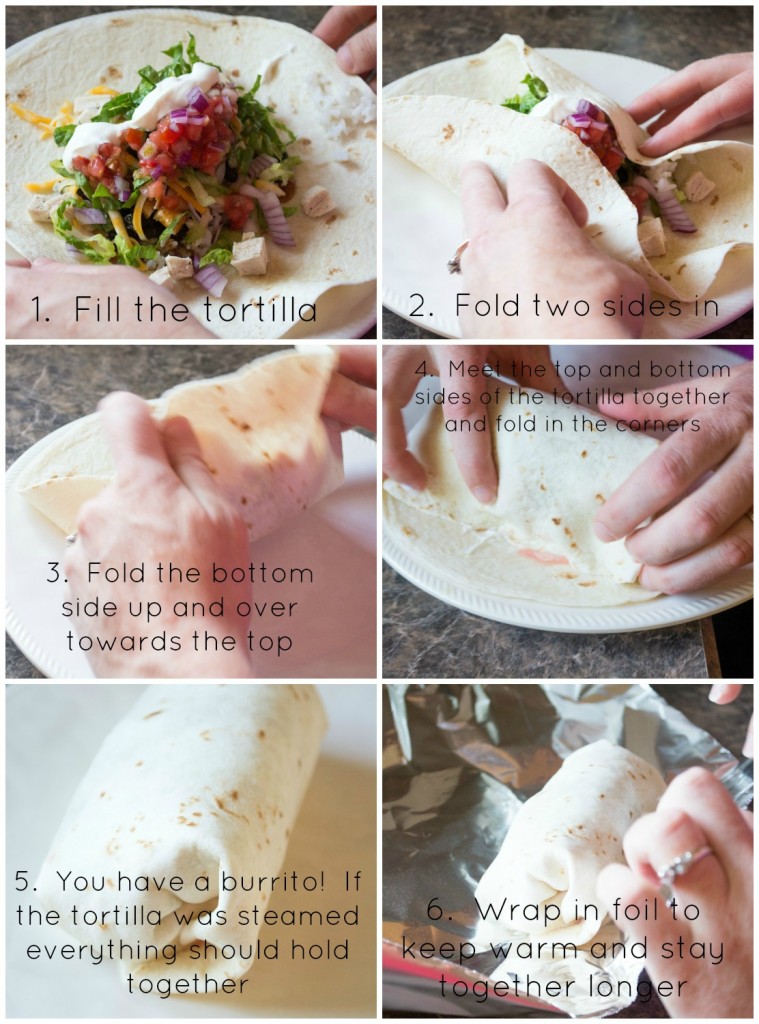 It takes some practice, but you'll get the hang of it.
Also, to make the tortillas more pliable, so they don't tear when wrapping, steam them a little.  To do this, wrap them in a damp hand towel and microwave them for 30-45 seconds.  Works like a charm.
Teriyaki Chicken Burritos and How to Fold a Burrito
Ingredients
1 cup rice- cooked (measure before cooking)
1 can black beans- undrained
4 chicken breasts
1 cup grated cheese
1 tomato- diced and/ or salsa
1 cup shredded lettuce
1/2 red onion- diced
6-8 Large Flour tortillas
Kikkoman Teriyaki Sauce- my homemade sauce- see post for link
Sour cream
Guacamole
sliced black olives
Any other of your favorite burrito toppings
Instructions
Preheat oven to 400 degrees. Measure your rice and cook it according to package directions. Slice the chicken breasts in half by laying them on a cutting board and slicing the knife through horizontally. So they are thinner. Place them on a pan and season them with salt and pepper. Cook the chicken in the oven for 15-20 minutes, or until they are no longer pink in the middle. Turn them over about half-way through the cooking time.
While the rice and chicken are cooking, prepare the remaining ingredients. Grate the cheese, shred the lettuce, dice the tomato, etc. Open the can of black beans and pour the contents into a microwave safe bowl, or small pot for the stove. Dice the chicken when it is done cooking. As soon as the chicken and rice are done heat the beans for 1-2 minutes, until heated through. Then steam the tortillas in a damp towel in the microwave.
To prepare the burrito, lay the tortilla on your plate. Top with a scoop of rice, then beans, then chicken- right in the center of the burrito. Drizzle the teriyaki sauce over the chicken. Continue building the burrito by adding cheese, lettuce, tomato, sour cream, guacamole, etc.
Wrap the burrito by bringing in two opposite sides toward the center. Then rolling one end over the top and tucking in all the edges as you continue to roll toward the other end. A nicely steamed tortilla will stick together well. Optional- wrap the burrito in a sheet of foil, to help hold it together. Unwrap the foil as you eat the burrito.
http://eatitandsayyum.com/teriyaki-chicken-burritos/
What do you think?  Could you go for teriyaki chicken in a burrito??
Keep scrolling for the recipe.
Some other dishes you might like:
Asian Chicken and Cabbage Salad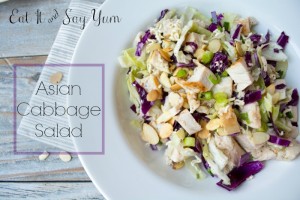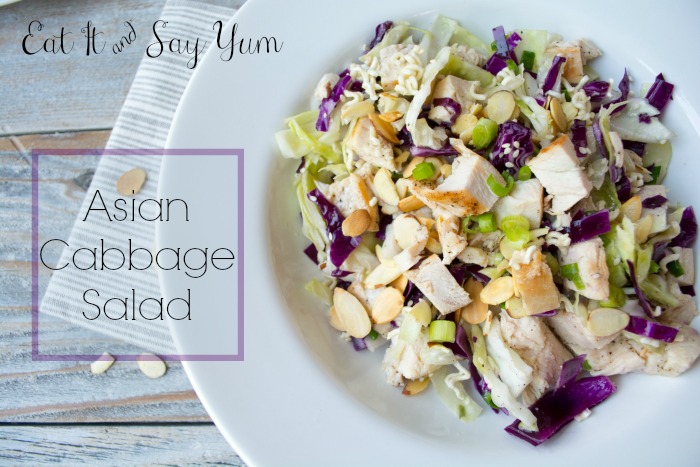 Chicken Club Tacos with Spicy Chipotle Sauce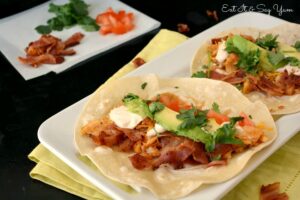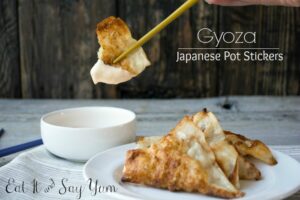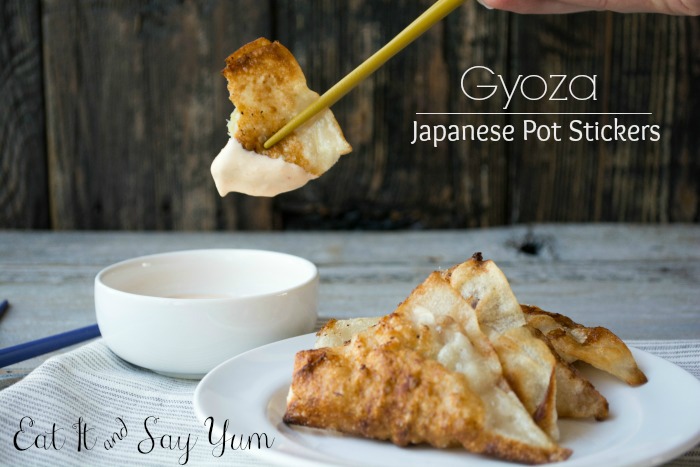 See where I link up.