Here is a quick and easy recipe for teriyaki chicken.  Cooking it on the grill adds more great flavor, but you can easily cook it under the broiler as well.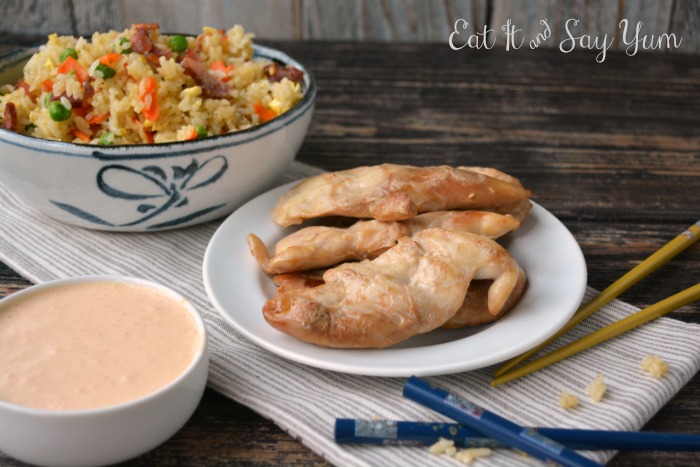 Mix soy sauce, garlic, sugar, and ground ginger in a small mixing bowl.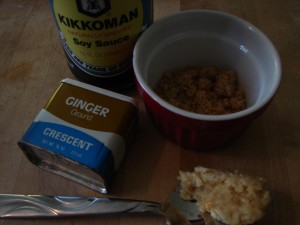 Pour that over the raw chicken, I used chicken tenders, and let marinate for at least a few hours.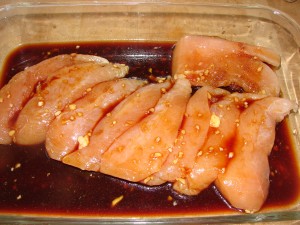 Optional: put chicken on skewers.
Grill chicken for about 15-20 minutes, depending on the size and thickness of the chicken.  Turn about half-way through cooking time.  Cooking under the broiler seems to go a little faster, only requiring a few minutes on each side.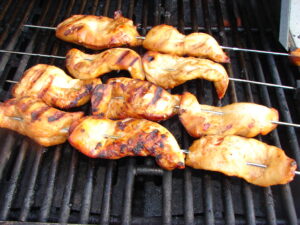 Chicken breasts, or thighs would also be very good.
Ingredients
1/3 cup soy sauce
2 Tbs sugar (I prefer brown, but white will work also)
1/4 tsp ground ginger
2 cloves garlic, minced
Instructions
Mix all ingredients together and pour over chicken. Let marinate, then grill.
http://eatitandsayyum.com/teriyaki-chicken-skewers/
 We ate these with some veggie kabobs on the side.
I don't mean vegetarian, just mostly vegetables…
We had red onion, bell peppers and bacon wrapped asparagus.
You heard me right, we wrap bacon around the asparagus.  (It's delicious)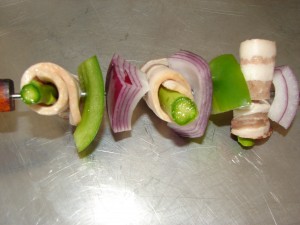 I also mixed about a Tbs of olive oil with some garlic and brushed that over these veggie kabobs, then ground some fresh salt and pepper on the top.
You want to grill these until the bacon is nice and crispy.
By then, the veggies will be done, too.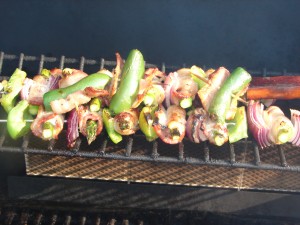 You might also like: