This month's challenge ingredient was Peanut Butter.
(Click to see January and February's Monthly Ingredient Challenge posts.)
I love peanut butter.  I thought about all kinds of peanut butter desserts I'd like to make.
But, in the end, I decided I wanted to take a savory route.
I've had Thai Peanut sauce before, and loved it.  So, this is my version of a Thai Peanut sauce, but on a yummy taco.  Because I LOVE tacos.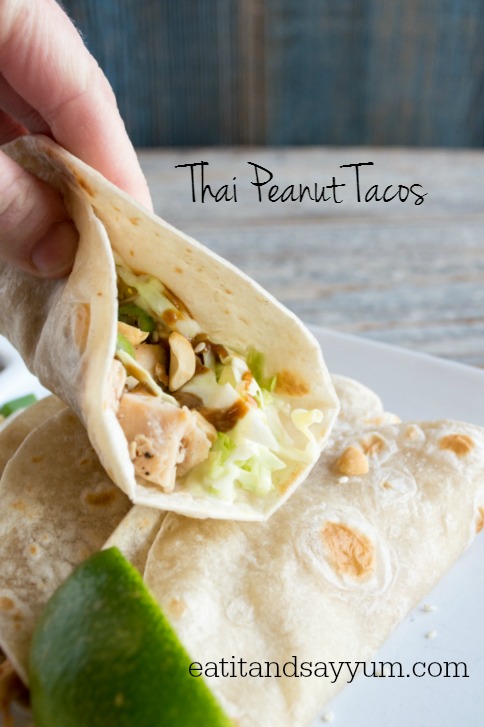 There are a few elements to these tacos, but with all of them together they make a pretty darn tasty taco.
I used some shredded chicken, but you could dice yours if you want.  In, fact I used the left over rotisserie chicken from Costco.  That stuff just makes my life easier.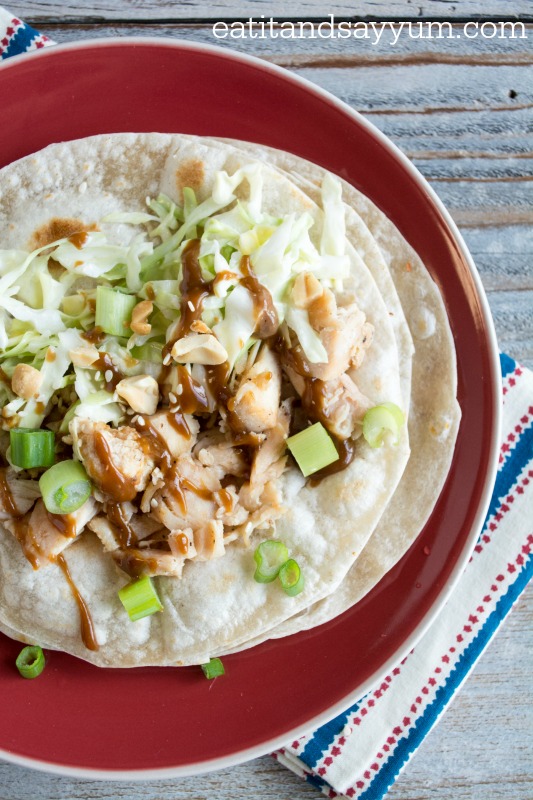 I made a cool and creamy slaw with a little Asian flair.  Then I topped the chicken and slaw with my Thai Peanut Sauce.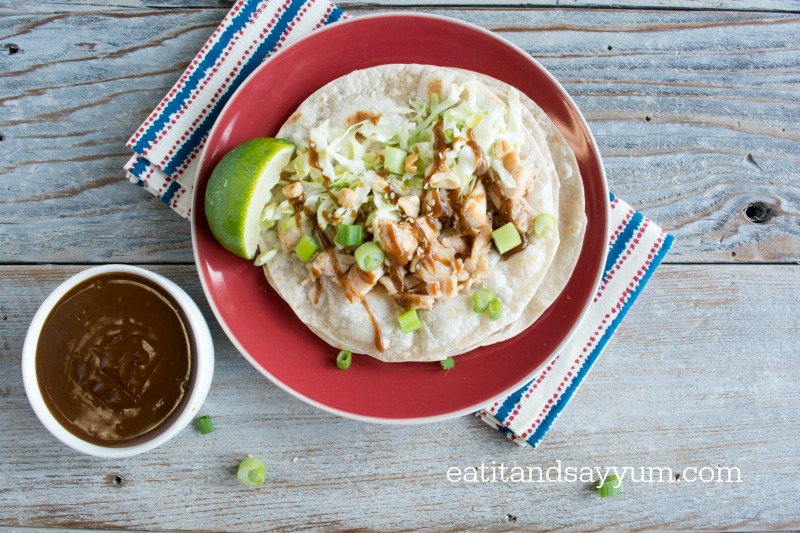 The peanut sauce is where I incorporated the peanut butter.  It does turn out a bit salty from the soy sauce, but once it's on the tacos with the other elements it's perfect.  I also added some cayenne pepper, feel free to add more or less, depending on how spicy you like it.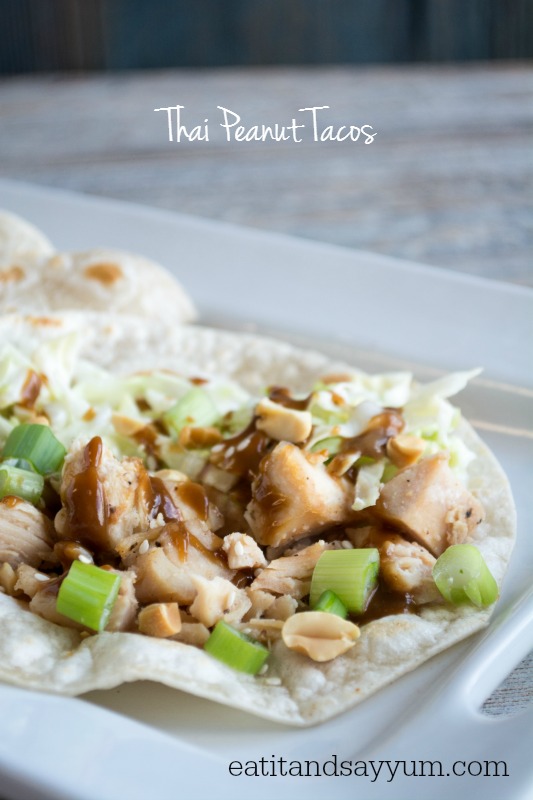 I added sliced green onions, toasted peanuts, and toasted sesame seeds to the top of the tacos.  They give some great flavor and crunch.
Also, I used the uncooked tortillas from Costco, and cut them smaller, to about 5 inch circles.  That was just the size I was going for.
Thai Peanut Tacos- Monthly Ingredient Challenge
Ingredients
Chicken filling- 4 cups chicken- cooked, and shredded or diced
1/2 tsp sesame oil
1/2 tsp ground ginger
a dash of cayenne pepper -more if you like it spicier
Peanut Sauce- 1/3 cup peanut butter
1/4 cup soy sauce
1 1/2 Tbs brown sugar
2 Tbs water
1 tsp rice vinegar
a few dashes of cayenne pepper- more if you like it spicier
Asian Slaw: 2 cups finely shredded cabbage
1/4 cup mayonnaise
2 Tbs rice vinegar
1 Tbs sugar
Toppings: sliced green onions
chopped peanuts- toasted
sesame seeds- toasted
about 12 flour tortillas
lime wedges
Instructions
Make the slaw by mixing the mayonnaise, rice vinegar and sugar in a medium mixing bowl, then add the shredded cabbage and toss together. Set aside.
In the oven, with the broiler on, toast the chopped peanuts and sesame seeds. Watch carefully, so they don't burn. Remove from the oven after a minute or so, and set aside.
In a small pot over low-medium heat, add all the ingredients for the peanut sauce and whisk together. Let heat slowly on low, stirring occasionally.
In a large pan over medium heat, heat/cook the shredded chicken with the sesame oil, a dash of cayenne, and the ginger.
To assemble, spoon some chicken down one half of the tortilla and the slaw down the other half. Drizzle some of the peanut sauce over top of those, then sprinkle on the green onions, toasted peanuts, and toasted sesame seeds. Squeeze the juice from a lime wedge over top of everything, then fold in half, like a taco, and eat while the meat is still warm.
Store any left over slaw or peanut sauce in the fridge.
http://eatitandsayyum.com/thai-peanut-tacos/
You might also like:
Chicken Club Tacos with Chipotle Ranch Sauce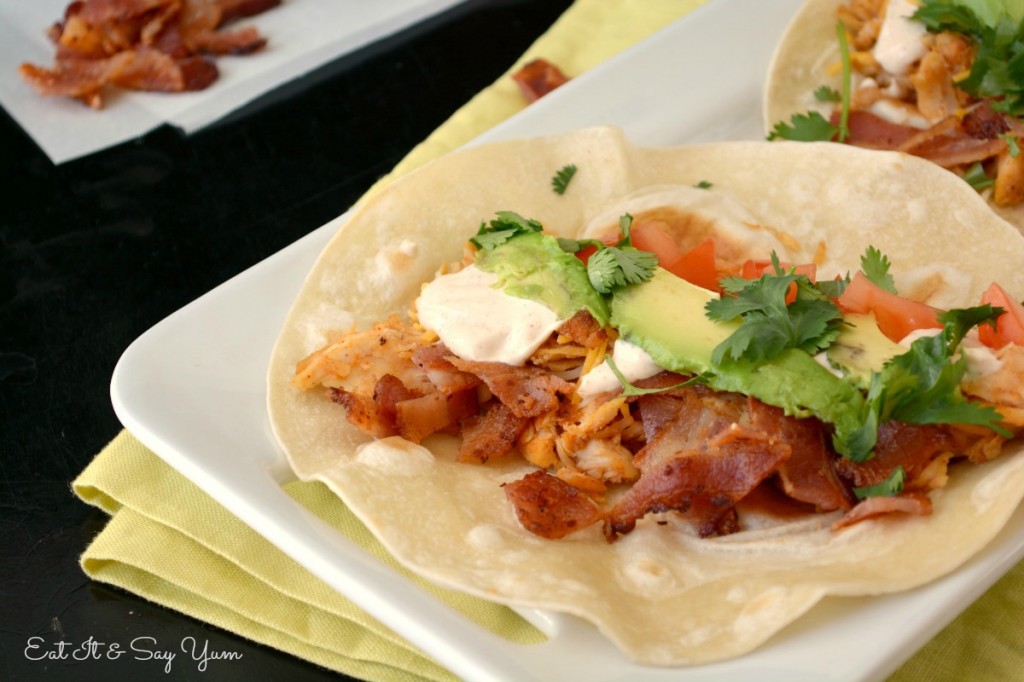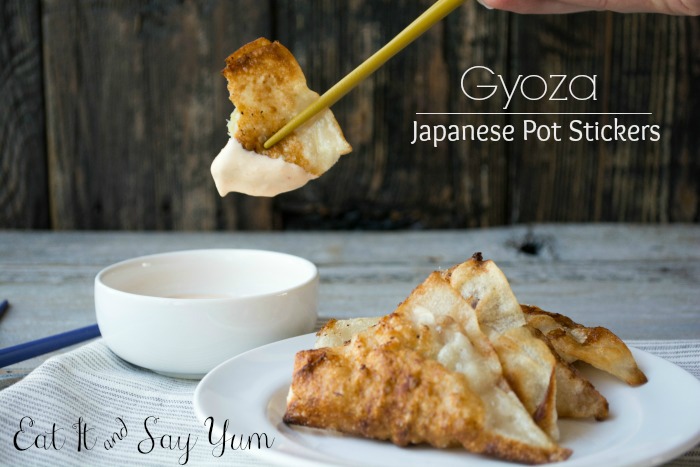 Don't forget to check out all the other recipes featuring Peanut Butter!