Chili and cornbread is a match made in food heaven.
And this chili recipe is so good that even my kids don't complain about eating bell peppers and onions.
For my chili I like it to be hearty and flavorful.
The seasonings in this chili blend so well, and by letting everything simmer in the pot, everything marries together in perfect harmony.
And it's just the right balance of meat, beans, and vegetables.
Enough talk, on to the pictures!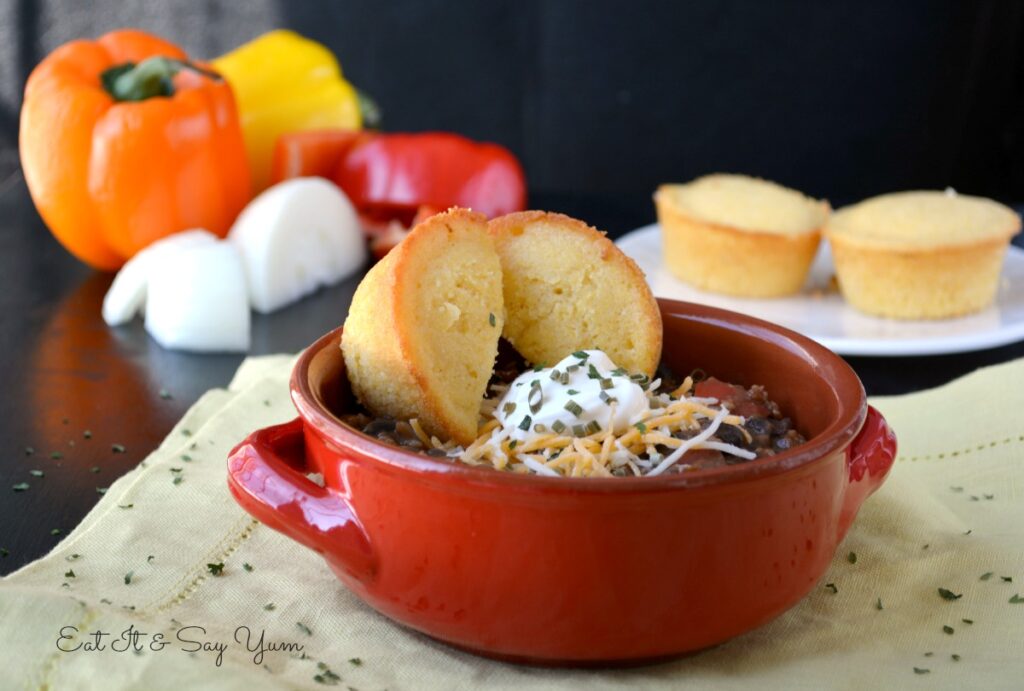 Can I just say how much I love the bright colors or the bell peppers here.  Beautiful.
And let us not forget about the amazing Cornbread Muffins that are pictured here as well.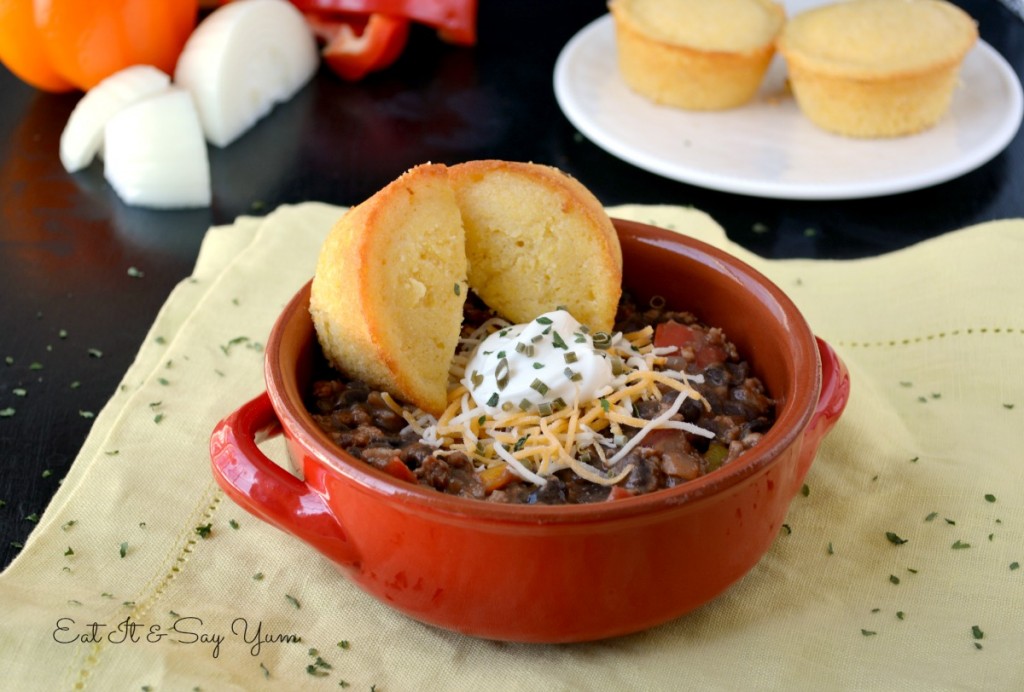 Some tips for my chili:
Don't forget to let it simmer!  At least 15 minutes, but up to 30 is better.  Any longer than that and you should at least cover the pot to keep the moisture in.
The bell peppers and onions can be cut at whatever size you want.  I prefer them a little on the smaller side.
You can increase the amounts of cayenne pepper and ground red pepper flakes if you want more kick to your chili.
I used ground beef here, but you can substitute ground turkey, ground pork, or ground veal, etc.  They all work and still taste great.
Ingredients
1 lb ground beef, pork, turkey, veal, etc.
1 bell pepper, any color- chopped
1/2 medium onion- diced
2 cans beans, black, pinto, kidney, or a combination of those- 15 oz cans, undrained
1 can diced tomatoes- 15 ounce can- undrained
2 1/2 tsp chili powder
1 tsp seasoned salt (like Lawrys)
1/4 tsp black pepper
1/2 tsp cumin
1 tsp oregano (dried leaves)
1/8 tsp cayenne pepper (can add more or less to change the heat)
1/8 tsp red pepper flakes (can add more or less to change the heat)
Any desired toppings
Instructions
Begin by browning the ground meat in a large pan or pot. When almost fully cooked add the chopped bell pepper and onion. Stir in the canned beans and tomatoes.
Add all the spices and stir. Allow to simmer for 15-30 minutes. Stirring occasionally.
Serve hot, topped with cheese, sour cream, green onions, fritos, etc.
http://eatitandsayyum.com/thick-and-hearty-chili/
And there you have it!  An easy meal that only takes one pot, and comes together quickly.  Top it with your favorite toppings.  I like cheese, sour cream, chives, Fritos or tortilla chips, etc.
This makes about 5 servings (adult sized) and has about 310 calories per serving.  (Without any toppings.)