Tortas are Mexican Sandwiches with lots of great toppings and so much flavor.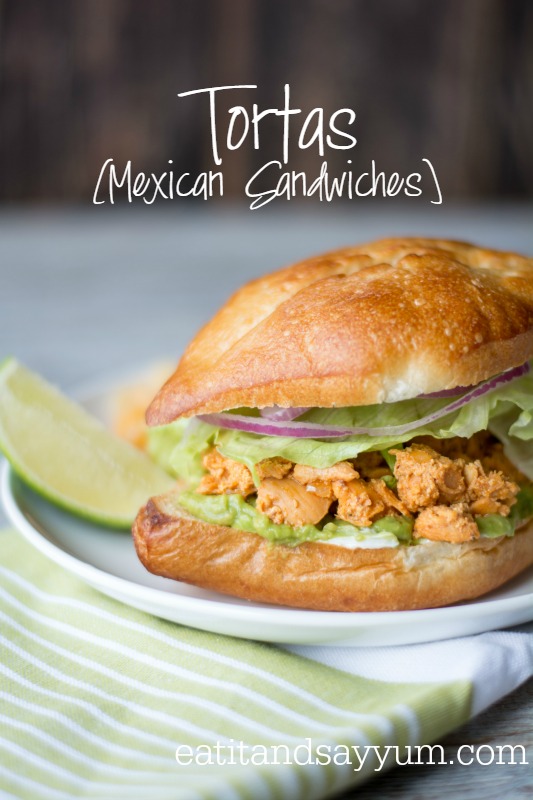 Have you ever heard of or had Tortas?  Growing up in California there was no shortage of Mexican restaurants- so I had definitely heard of these.  However, I'd never really had the desire to try them.
Well, when my sister came to visit me last week, she made them for us.  Now I'm just wondering why it took me so long to try them.  They are DELICIOUS!
My sister was taught to make these by her Mother-in-law, who happens to be from Mexico.  So, they are pretty much the real deal.  We were able to find all the ingredients at a local Wal-Mart.  So you should be able to find things rather easily as well.  These were the specialty items that you might not have in your pantry already.
The chicken is nice and spicy.  I can't handle too much heat, but I thought this was just amazing.  My lips were burning a little, but I keep going back for the leftovers.  What does that tell you?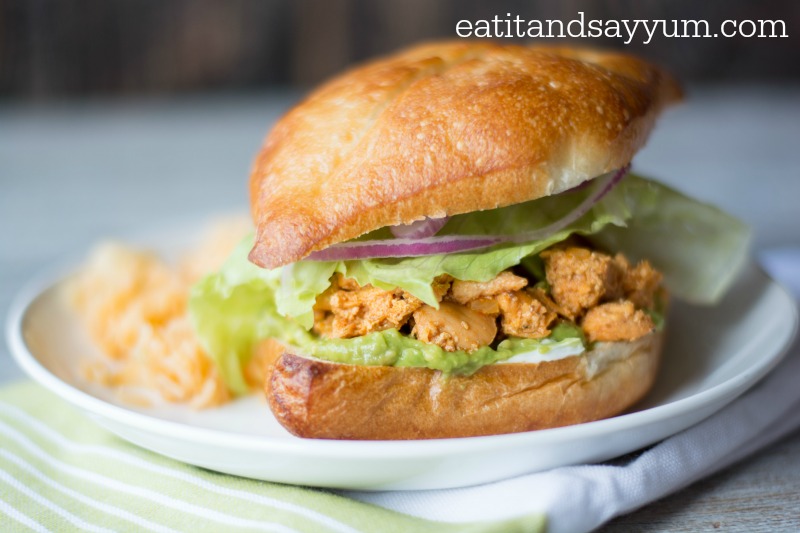 There are a variety of toppings you can add to the sandwich.  We used guacamole (it was pretty spicy- but make it how you like it), mayonnaise, lettuce, onions, tomatoes, Queso Fresco (a Mexican cheese), and refried beans are an option as well- or just eat them on the side with some Spanish Rice.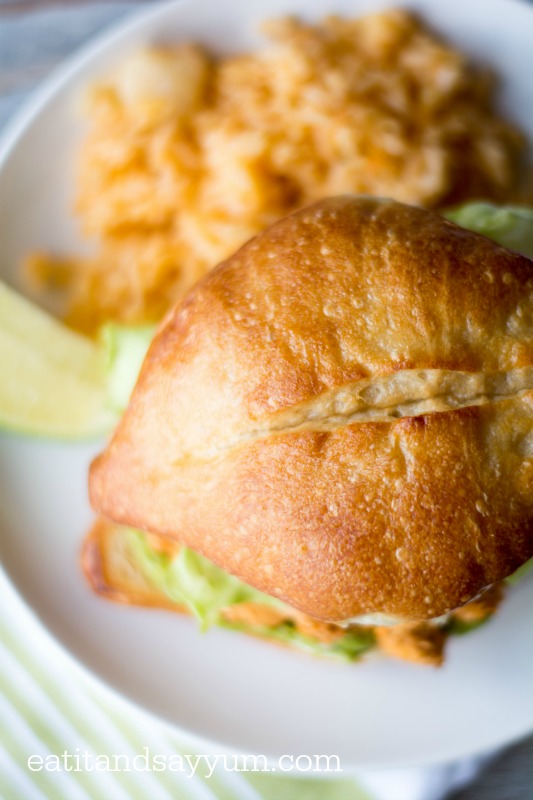 The rolls are called Bolillios Rolls.  They were also available at Wal-Mart, but I've seen them at other grocery stores as well.  We cut the rolls open then lightly buttered them and put them under the broiler so they were nice and toasty.  The warmth of the rolls with that buttery crunch was so good against the cool lettuce and guacamole.  I think 'fiesta in my mouth' is an accurate description of eating this sandwich.  I can't wait to make them again!
Tortas- Mexican Sandwiches
Ingredients
4-5 chicken breasts- diced
1 Tbs butter, plus extra for buttering the bread
1/2 tsp garlic powder
2 Tbs vinegar
1/4 cup orange juice
1/4 tsp cumin- optional
1 tsp dried onion
1-2 packageds Goya Sazon
1 tsp Chicken Bouillon
Salt and pepper- to taste
1, 7 oz can, Chipotle Peppers in Adobo Sauce- leave peppers intact
6 Bolillio Rolls- sliced open
Toppings: Guacamole
Mayonnaise
Lettuce
Tomatoes- sliced
Cotija cheese- sliced- optional
onion- sliced
pickled jalapenos- optional
Instructions
In a large skillet over medium-high heat, add the diced chicken breasts, butter, garlic powder, vinegar, orange juice, cumin, dried onion, Goya Sazon packages, and chicken bouillon. Stirring often, cook until the chicken is cooked though, about 15 minutes. Add salt and pepper to taste. Add the can of chipotle peppers with the sauce, but do not break the peppers, unless you like things EXTRA spicy. If the chicken is dry add a little more butter and/ or orange juice.
To serve, spread a small amount of butter of the insides of the rolls and toast them under the broiler. Top the butter with mayo, and then guacamole on one half. Top the guacamole with the cooked chicken, then lettuce, tomatoes, Cotija cheese, onions, jalapenos- whatever toppings you choose. Add the top bun and enjoy. Serve with rice and beans on the side.
http://eatitandsayyum.com/tortas-mexican-sandwiches/
 You might also like: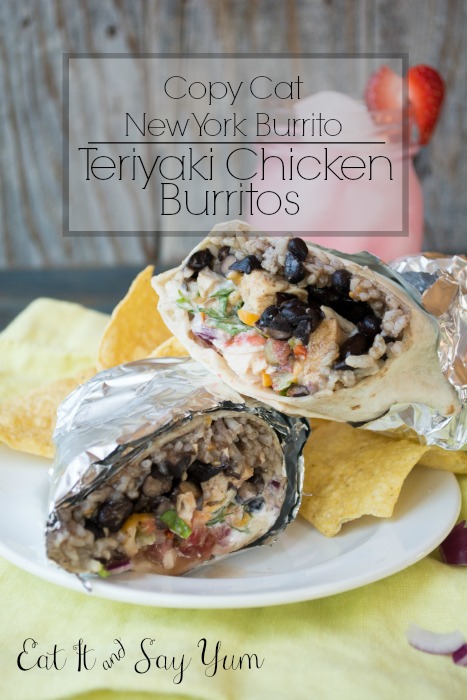 Heirloom Tomato and Peach Salsa