One of the many foods I remember from my childhood is these Trees in a Blanket.
My childhood self loved them, and so this grown-up version of me.
So I really shouldn't be surprised that my little mini's loved them as well.
And by 'loved them' I mean they each wanted seconds.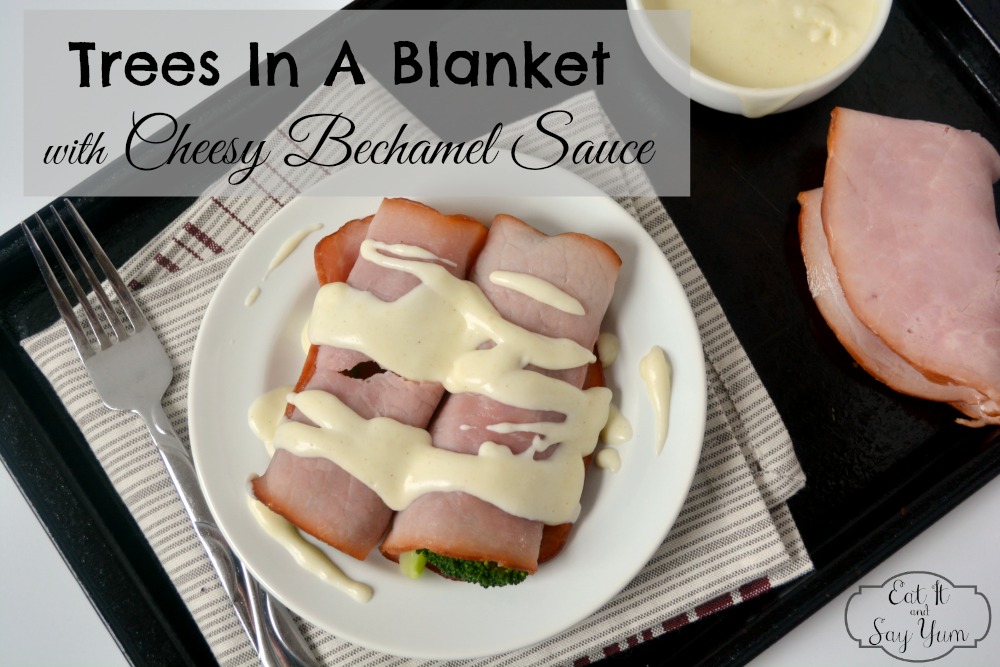 Not only is this dish super tasty, but it is also EASY!
Start with some broccoli, and cut the florets off of the thick stems, but leave some of the thin stems attached.  You want long pieces of broccoli to fill the slice of ham.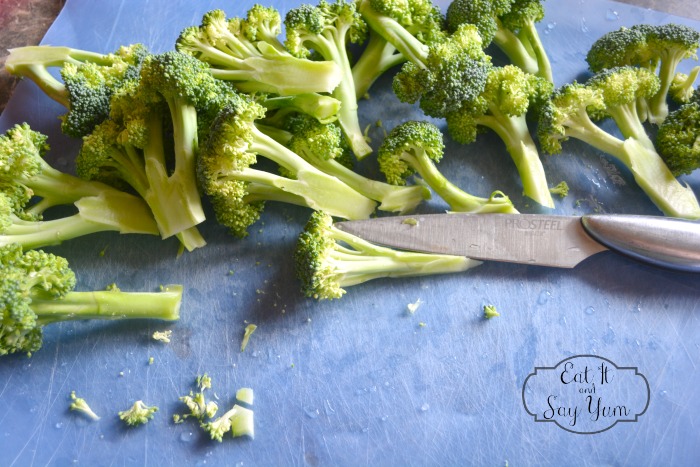 Steam the broccoli, til about fork tender.  Then lay 2-3 pieces on a slice of ham and roll it up.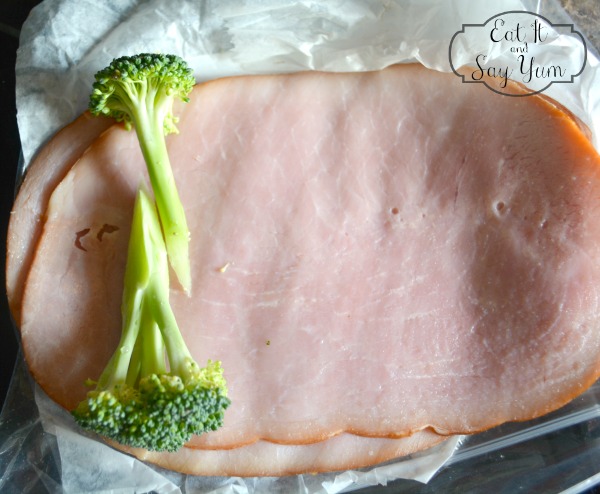 For the ham, I like Black Forrest Ham, but you can choose your favorite kind.  I recommend getting sliced ham from the deli section at your local grocer.  You don't want super thin slices.  The ham you would buy pre-packaged for sandwiches is probably going to be too thin.  And buying a spiral sliced ham would be a little too thick.  So go to the deli area and have them slice the ham for you.
Lay each ham and broccoli roll in a greased baking dish.  Bake them just until heated through.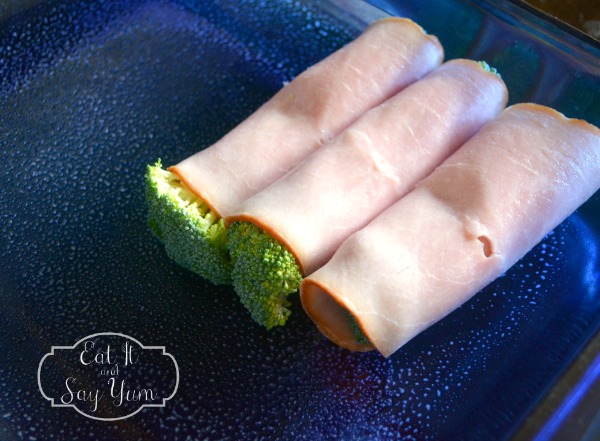 While the trees in a blanket are heating in the oven, you can make the Bechamel sauce, or you can use a hollandaise sauce.
I used a cheesy bechamel sauce for this recipe.  (I will share a hollandaise sauce recipe soon!)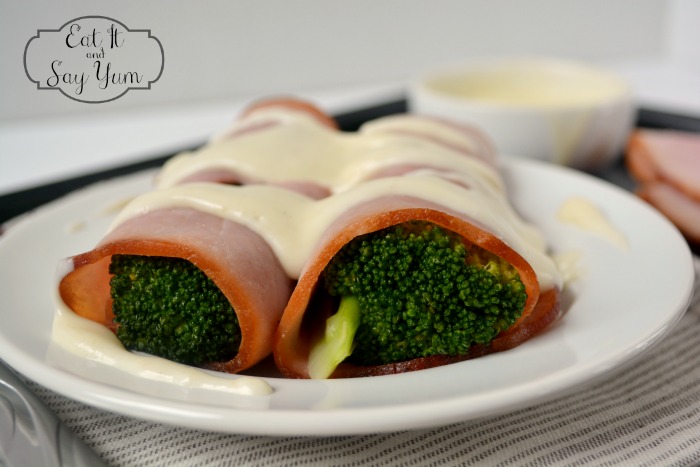 Bechamel sauce is a French white sauce.  It's really easy to make, and you can change it up by adding a variety of cheeses.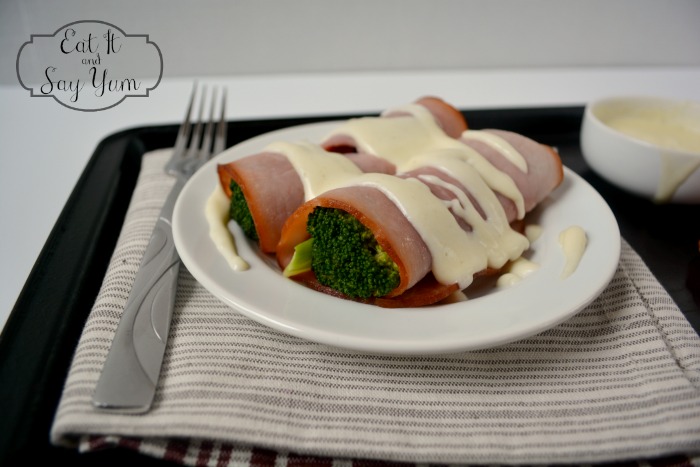 I used swiss and Parmesan cheese for this sauce.  It tasted awesome with the trees in a blanket.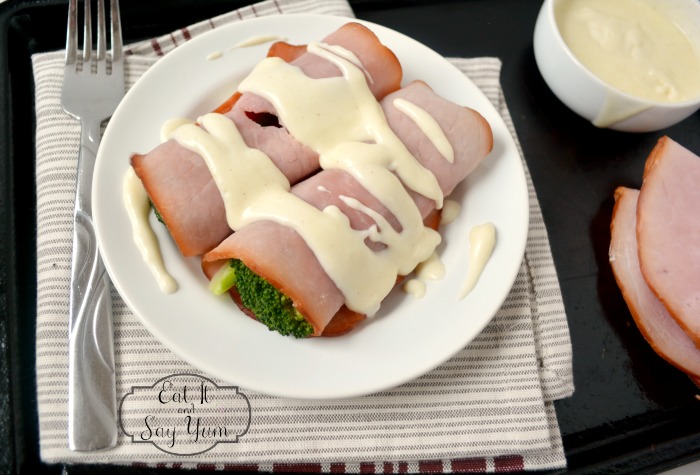 I think this dish would be PERFECT for Easter.
Trees in a Blanket with Cheesy Bechamel Sauce
Ingredients
2 heads of broccoli
1 pound sliced ham- medium thickness
2 1/2 Tbs flour
3 Tbs butter
2 cups milk
1 cup Swiss cheese- grated
1/2 cup Parmesan cheese- grated
salt and pepper (I use white pepper)
1 bay leaf
1 thick slice of onion
Instructions
Preheat oven to 350 degrees. Wash and cut broccoli. Leave about 1-2 inches of the stem attached to each floret. Divide the florets into smaller pieces, leaving the stems attached. Steam the broccoli over medium-high heat until about fork tender, about 3-4 minutes.
While the broccoli is steaming, heat the milk in a small pot, with the bay leaf and onion slice. Let heat for 3-5 minutes, until bubbles form around the edges of the pot, but do not boil. Then remove from heat, and let sit covered for 5 minutes.
Assemble the trees in a blanket by laying 2-3 pieces of broccoli on each slice of ham, then roll the ham around the broccoli. Lay each roll in a greased 9×13 baking dish. Bake for 15-20 minutes, until heated through.
While the trees in a blanket are baking, finish the sauce. In a medium pot melt the butter, then whisk in the flour. Remove the bay leaf and onion from the milk, and slowly drizzle the milk into the flour/ butter roue. Add 1-3 Tbs of milk at a time, and whisk until smooth. Then add a little more milk and whisk again. Repeat until all the milk is added and the sauce is smooth. Season with salt and pepper, and bring to a boil while whisking, let it boil and thicken for about 1 minute. After it boils, add the cheeses and stir to mix, then remove from heat. If sauce is too thick you can add a few more Tbs of milk, if needed.
Serve the trees in a blanket while hot, top with a drizzle of the cheese sauce, or you can use hollandaise sauce.
http://eatitandsayyum.com/trees-in-a-blanket-with-cheesy-bechamel-sauce/
But, really, it's great anytime.  And I love having a dinner that the whole family loves, and it's not that bad for you either!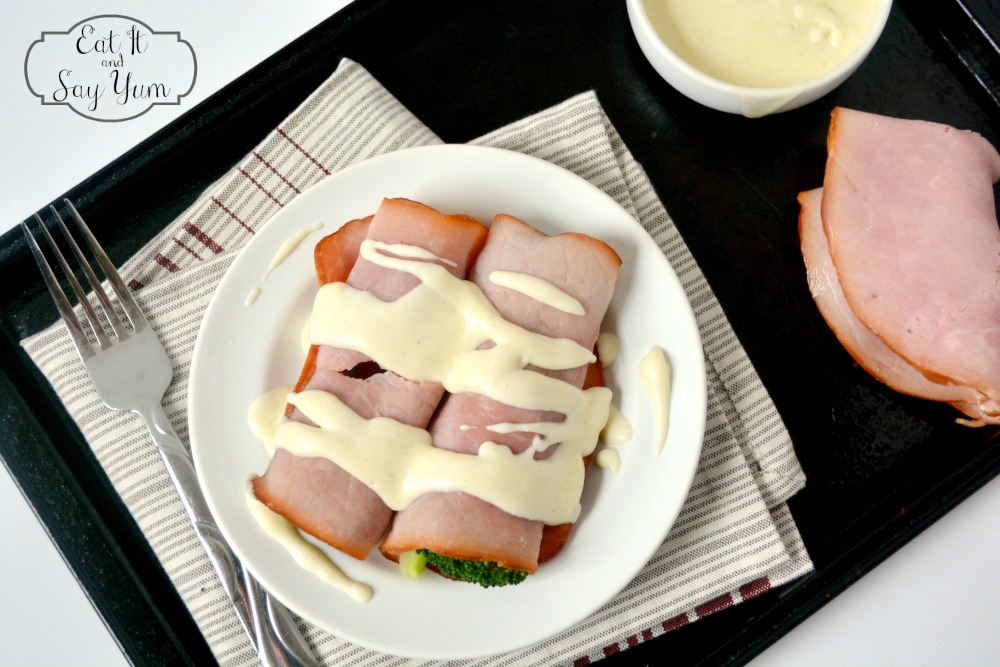 Click here to see where I link up.  Click here to subscribe.
Don't forget to check out the Big Cash Giveaway going on right now.
Also linked up with Child at Heart.