Caramel and apples is, obviously, a winning combination.  Right?
Well, let's combine that with some cheesecake.
And not just ANY cheesecake, how about some smooth and creamy, vanilla bean cheesecake?!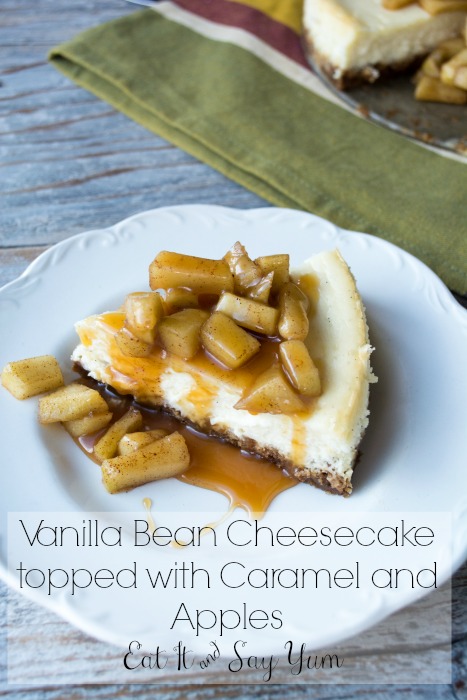 Do I have your attention now?
This cheesecake is really amazing.  The texture is so smooth and creamy.  And those vanilla beans…  (swoon).  I think they are so beautiful.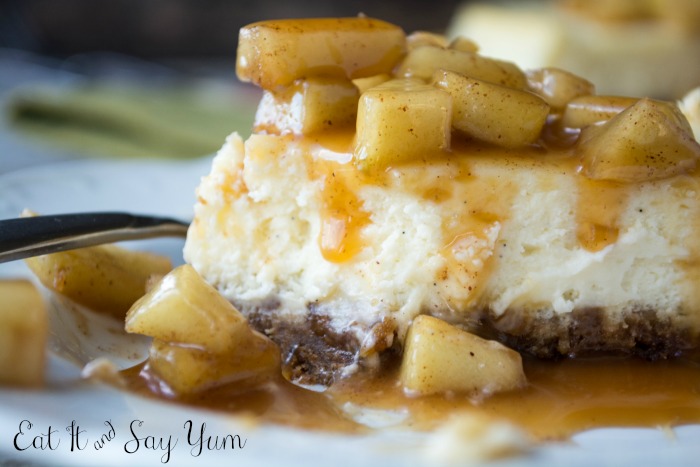 A dessert this decadent is great any day, but  it's really perfect for all those holiday dinner parties that are coming up.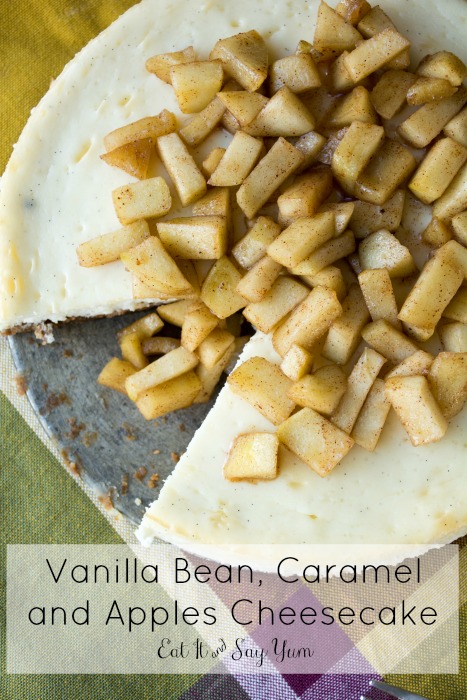 I cook those apples in some brown sugar and cinnamon to give them a nice, warm flavor.  And I just love the drizzle of caramel over each slice.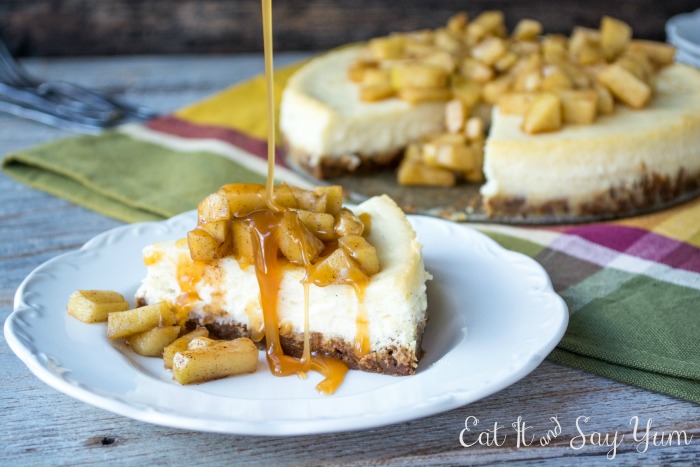 I know lots of people are afraid of making a cheesecake, but don't be!  If you follow these tips, you should be left with a beautiful dessert that will impress everyone.
Tips:
1.  Let your cream cheese and eggs come to room temperature before mixing.
2.   Add eggs 1 at a time.
3.  Set your springform pan in a pan of water while cooking, to help prevent cracks on top of the cake.
4.  Let the cake rest in the oven after the cooking time.
These few little tweaks really help ensure a beautiful cake.
Vanilla Bean Cheesecake with Caramel and Apples
Ingredients
Crust: 2 cups ginger snap crumbs
6 Tbs butter- melted
Cheesecake Filling: 12 oz cream cheese- at room temperature
1/2 cup sugar
1/2 vanilla bean- slice down the center and use a knife blade to scrape out the beans
1 1/2 tsp vanilla
pinch (or two) of salt
2 eggs- at room temperature
1/2 cup sour cream
Apple Topping: 2 granny smith apples- peeled and dicced
1 tsp butter
2 Tbs brown sugar
1/2 tsp cinnamon
1 dash of nutmeg
pinch of salt
Caramel Sauce (any caramel sauce could be substituted here): 1/2 bag caramel bits
1/4 cup heavy cream
pinch of salt
Instructions
Preheat oven to 350 degrees. Use a food processor to crush the ginger snap cookies, or a plastic zipper bag and a rolling pin will work as well. Crush the cookies to get fairly fine crumbs. You need about 2 cups of crumbs. Mix the crumbs with the melted butter and press into an 8 inch spring form pan.
In a medium mixing bowl, beat the cream cheese with an electric hand mixer til smooth. Add the sugar, salt, and vanilla beans and beat again til fluffy and smooth. Add the vanilla and one egg at a time -beat to combine before adding the next egg. Use a rubber scraper to clean the sides of the bowl before adding the second egg. Beat in the sour cream. Pour the mixture into the pan, over the ginger snap crust.
Wrap the bottom of the pan with a sheet of foil, to keep water from leaking in. Place a cookie sheet in your oven on the middle rack, place the foil wrapped spring form pan on the cookie sheet. Add about 4 cups of water into the cookie sheet. Enough to cover the bottom of the cookie sheet with out spilling over the edges.
Cook the cheesecake for 50 minutes. After that time, gently jiggle the spring form pan to see if the center of the cake jiggles. If it doesn't turn off the oven and let the cake sit in the hot oven for 20 minutes. If it does, let it cook for 5 more minutes, and then let it sit in the hot oven for 20 minutes.
After 20 minutes, remove the pan and cookie sheet. (Be careful not to spill any water, if there is any left.) Let the cheesecake cool completely, then place it in the fridge to chill.
While the cake is chilling, you can peel and dice the apples. Place them in a skillet/ pan over medium-high heat and add the butter, brown sugar, cinnamon, nutmeg, and salt. Stir everything together while the apples cook. Let them cook until they are as tender as you want them, about 5 minutes is good for me. Let the apples cool to room temperature.
In a small sauce pan, add the caramel bits and heavy cream. Let them heat over medium heat so the cream melts the caramels. Once melted add the salt, stir and remove from heat.
To serve, top the chilled cheesecake with the cooked apples, and drizzle each slice with the caramel sauce.
http://eatitandsayyum.com/vanilla-bean-cheesecake-with-caramel-and-apples/

What's your favorite cheesecake flavor?
You can see all the awesome linky parties I like to join here.
You might also like: