Have you ever wondered what to do with corn tortillas?  If you have lots of experience with them, then I am sure this question doesn't cross your mind.  But for people who aren't as familiar with them, I want to help you out.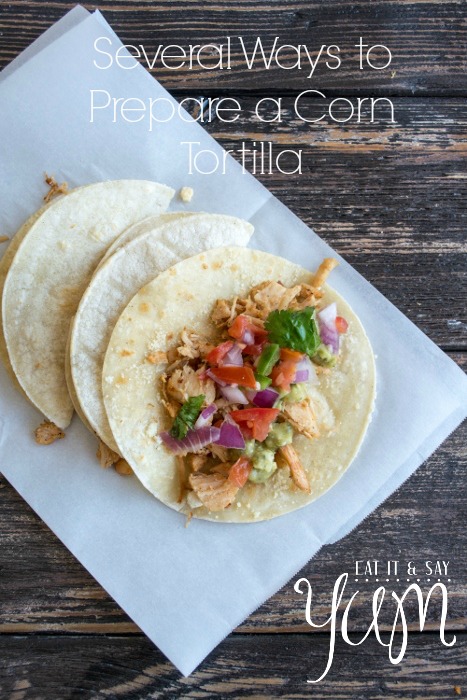 I grew up in California and there was no shortage of delicious Mexican food.  Of course, I wasn't taught to cook by someone from Mexico, so my style of cooking has a little more American flair to it.  (So don't rip my head off if I use corn tortillas differently than your grandmother who was actually from Mexico.  Ok?)
My favorite way to use a corn tortilla is for a taco.  But unlike a flour tortilla, you can't just fold a corn tortilla in half.  It breaks.
So you have to apply some heat to make it flexible.  You can warm them in a pan on the stove, and I'm sure the tortilla would taste fine.  But my mother taught me a better way.
I grew up eating corn tortillas that were so delicious.  Using my mom's method, I butter one side of the tortilla and place it buttered side down on a griddle.  I do several at a time, so fit as many as you can on there.
Once the butter is nice and melted and the tortilla is just started to get some golden brown spots, turn the tortilla over.  Now that you have the buttered side up, sprinkle a little parmesan cheese on it.  WHAT, parmesan cheese on a tortilla?!  I know.  It sounds crazy, but trust me, it's SO good.  Let the bottom side of the tortilla heat through, only for about 20-40 seconds.  Remove the tortilla and fold in half so that the cheese is on the inside.  Fill with your taco meat and enjoy.  The tortilla now has the flexibility to be folded in half without immediately breaking.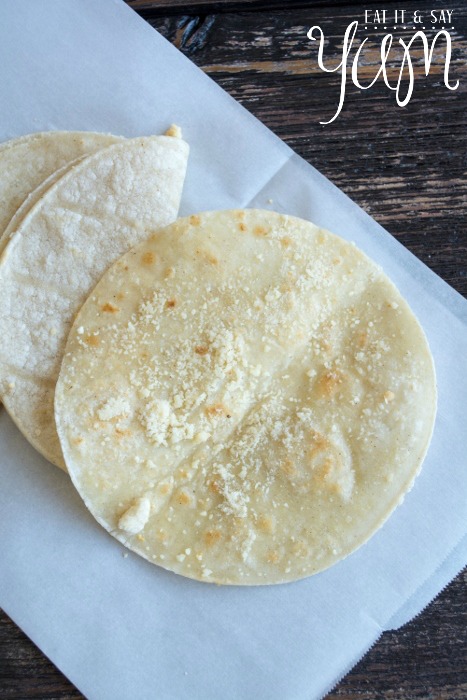 A second method is to fry them.  Although they are messy and not-so-easy to eat, my family loves tostadas.  We used to just buy the tostada shells from the store, but we NEVER used them all.  So, we started frying our own shells.  All you need is a corn tortilla and some hot oil.  The shells fry in about 30-40 seconds on each side in the hot oil.  And they taste so much better than the store bought version.  Now we can make as many as we need, and use the remaining corn tortillas in a different way.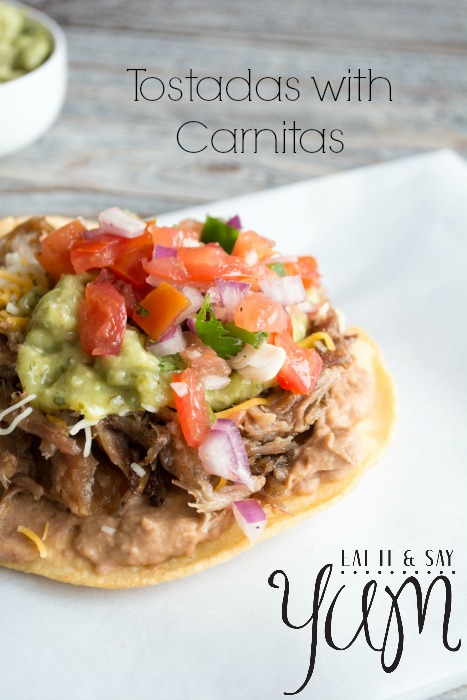 A variation on the tostada method is to fry your own tortilla chips.  Before throwing the corn tortilla in the hot oil, slice the tortilla into wedges, like a pizza.  Then just fry the triangles.  Now you have fresh tortilla chips!  You just can beat 'em when they are warm out of the fryer.
The third method I want to share, is to use them in a casserole.  My Beef and Bean Enchilada Casserole is a great way to work in corn tortillas.  I just replace the flour tortillas with the corn ones.  While the casserole cooks the corn tortillas really absorb the moisture from the sauce and it makes this great corn tomalito texture.  I just love it.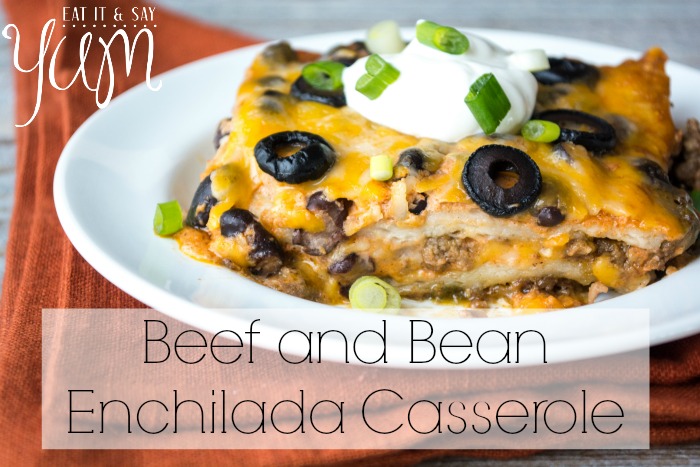 You can also use corn tortillas for enchiladas.  Just dip the tortillas in some hot enchilada sauce before filling and rolling them.  Like I said before, if they aren't heated they will just tear.  But you need to work quickly once they are wet, so they don't fall apart on you.  At least if they do tear a little, you can cover them with sauce and cheese and no one will know.  😉
What is your favorite way to use a corn tortilla?  Share it with me in the comments.
As always, if you found this post helpful I would love to have you share it with your friends and PIN it!  Thanks, and happy cooking!