What kid doesn't love popcorn, right?  I happen to be a fan of toffee, and had some Heath Toffee Bits that were calling my name.  I wanted to make some patriotic treat for the upcoming July 4th holiday, and this was the baby born of all those ideas.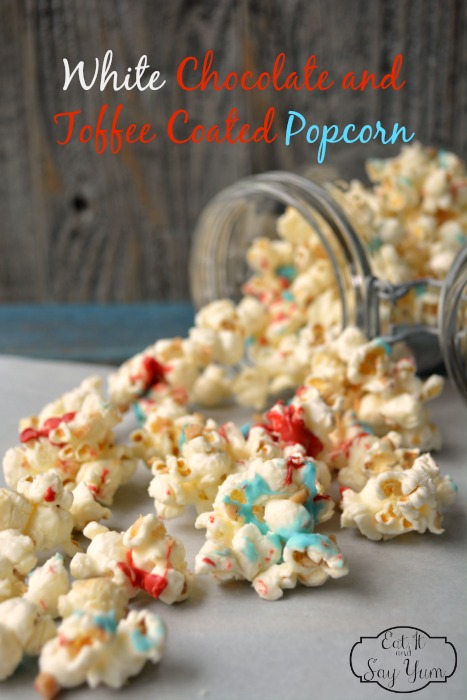 My kids could hardly keep their hands out of this while I was making it and letting it cool.  When it was all said and done though, it only took like 30 minutes.  That includes 15 minutes of cooling in the freezer.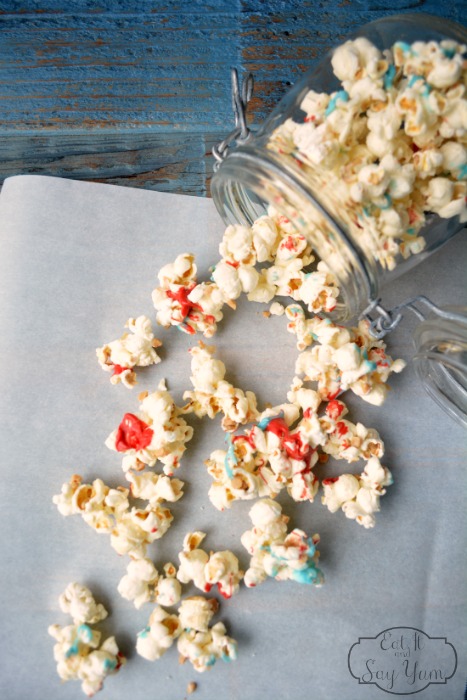 I popped some popcorn in my air popper, but you could easily use a lunch size paper bag with a couple Tbs of popcorn kernels and pop it in the microwave.  It takes a few batches to pop all the popcorn, but is a great solution when you don't have an air popper- which was me for several years.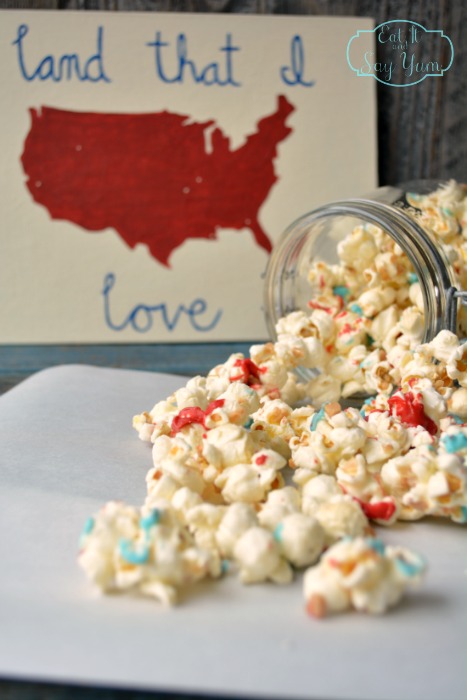 While the popcorn was popping I melted the white almond bark.  I don't recommend using straight white chocolate.  You want the coating to harden well and not be too melty.  Almond bark works best in this situation.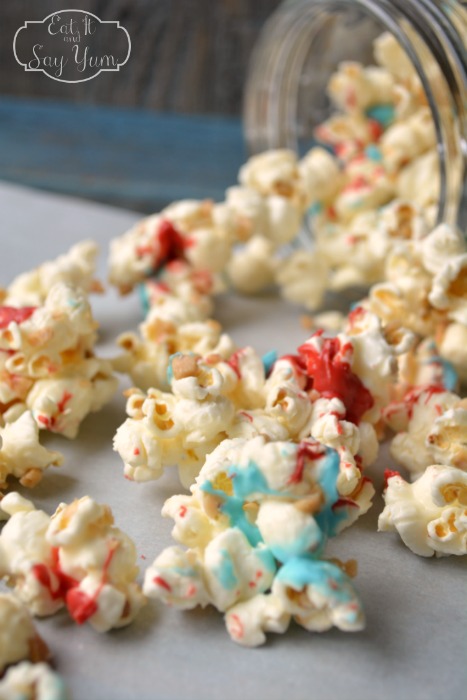 I removed any un-popped kernels, and then poured the popcorn into a brown grocery bag.  I rolled the bag shut and then shook it like there was no tomorrow.  🙂  Pour the popcorn on a pan, then immediately sprinkle with the toffee bits.
Now you can eat it as is, once it cools, or melt some holiday colored candy melts and drizzle that over the top.  Change up the colors and have this for any holiday!
Super easy, super fast.  The kids can even help if you want.  🙂
White Chocolate and Toffee Coated Popcorn with a Patriotic Spin
Ingredients
1/3 cup popcorn kernels
6 oz white almond bark
10-15 candy melt chips- of each color you want
1/4 cup Heath toffee bits
Instructions
Pop all the popcorn, and remove any un-popped kernels. Melt the almond bark in a microwave safe dish, for about 4 minutes. Checking and stirring every minute or so.
Pour the popcorn into a large brown paper grocery bag, pour all the melted almond bark over top of the popcorn. Roll the bag shut, and shake it vigorously, while holding it shut.
Cover a cookie sheet with parchment paper (or wax paper) and grease it with cooking spray. Pour the popcorn out onto the paper. Spread it out to cool evenly. Immediately sprinkle the toffee bits over the popcorn. In two small microwave dishes, melt the candy melts then drizzle, or spread, them over the popcorn.
Let cool completely before eating. Can stick the pan in the freezer for 10-15 minutes for faster cooling.
This recipe can easily be doubled or tripled if you want a large batch.
http://eatitandsayyum.com/white-chocolate-and-toffee-coated-popcorn-with-a-patriotic-spin/
Enjoy your 4th of July!!  I can't wait to barbecue and watch fireworks.  So excited!
See where I link up.
You might also like:
Peanut Butter Cocoa Crispy Treats