Wow, that's a mouthful.
These little babies got a HUGE reaction out of my kids today.  They LOVED them.
And when my kids LOVE something that I make, I say that's a WIN!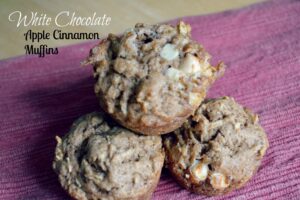 I have been playing around with muffin recipes lately.  I think they will be something easy to have for breakfast once school starts back up.  I can whip up a batch the night before and have them ready in the morning when we are all in a hurry and only seem to find time for cereal.  Plus, I'm substituting some healthier ingredients.  (Although the white chocolate chips probably negate all of my attempts at healthy,)
So, while on this muffin recipe quest, this is one of the combinations I came up with.
I modified a Zucchini Bread recipe from my old Better Homes and Gardens cookbook.
I used King Arthur's Whole Wheat Flour, instead of all-purpose flour.  (It is the only whole wheat flour I use, love it!)
I also tried out Raw Sugar today.  I was pleasantly surprised, that the muffins still tasted great.  I even cut the amount of sugar in half from the original recipe, and we didn't miss that extra sugar at all.
So try these out, and let me know what you think!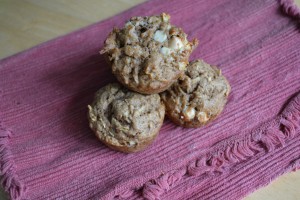 White Chocolate Apple Cinnamon Muffins
Ingredients
1 1/2 cups whole wheat flour (can substitute white all-purpose flour)
1/2 tsp baking soda
1/4 tsp baking powder
1/4 tsp salt
1/2 tsp cinnamon
1/4 tsp nutmeg
1 cup peeled and grated apple (I used two apples)
1/2 cup raw sugar, or 1/3 cup packed brown sugar
1 egg
1/4 cup oil
1/2- 2/3 cup white chocolate chips (depending on how many you want)
Instructions
Preheat oven to 350 degrees and grease a 12 cavity muffin tin.
In a medium mixing bowl combine all the dry ingredients: flour, baking soda, baking powder, salt, cinnamon, and nutmeg. Stir these together and make a well in the middle of them.
In a separate mixing bowl combine the grated apples, egg, oil, and sugar. Stir together with a fork, then pour into the dry ingredients, and add the white chocolate chips. Continue to stir all the ingredients with a fork until all the dry ingredients are fully incorporated. Don't mix it beyond that. The batter will be thick.
Divide the batter among the 12 muffin holes and bake for 16-19 minutes. They are done when you can lightly push on the top of a muffin and it doesn't sink down. They should be firm to the touch. Remove muffins from the muffin tin and let cool slightly on a cooling rack. They are delicious if eaten while still warm!
http://eatitandsayyum.com/white-chocolate-apple-cinnamon-muffins/