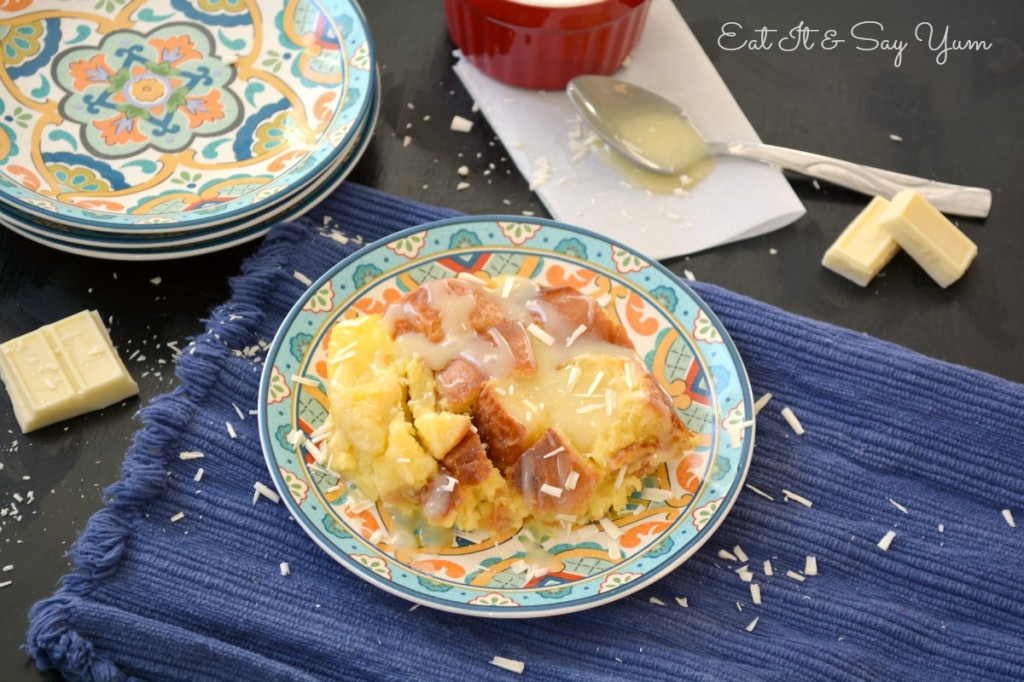 Here's a twist to an old classic.
This bread pudding is made with egg yolks so it still has that amazing custard texture and flavor, but it also has white chocolate in it, and on it!
Now, I have nothing against pie, but every once in a while it's nice to change things up a bit.  Right?  Well this makes the perfect dessert on a cold night.  (Or breakfast on a cold morning…  It has eggs and bread, sounds like breakfast to me!)
I was a little skeptical of whether or not my kids would like this.  I mean it doesn't look like a cookie, or ice cream, or any other normal kid dessert.  But they LOVED it!  After giving them a taste they didn't want to wait until dessert time to eat their full serving.
In fact this bread pudding has been a hit with everyone EVERY time I have made it.  That's a pretty good track record.
So get yourself some crusty bread and lets get busy!!
The important prep work for this dish is to cut your french bread into cubes and let them dry before you start to make anything.  The bread cubes can dry in the oven, with the light on, for as little as 3-4 hours.  Or you can leave them out on the counter for a day, and up to 10-14 days.  After one day I put my cubes into a zipper bag until I was ready to make this.  (They were there for at least 10 days, and they were just fine.  As long as all the moisture is out they shouldn't mold.)
After the bread cubes are ready you can begin the custard.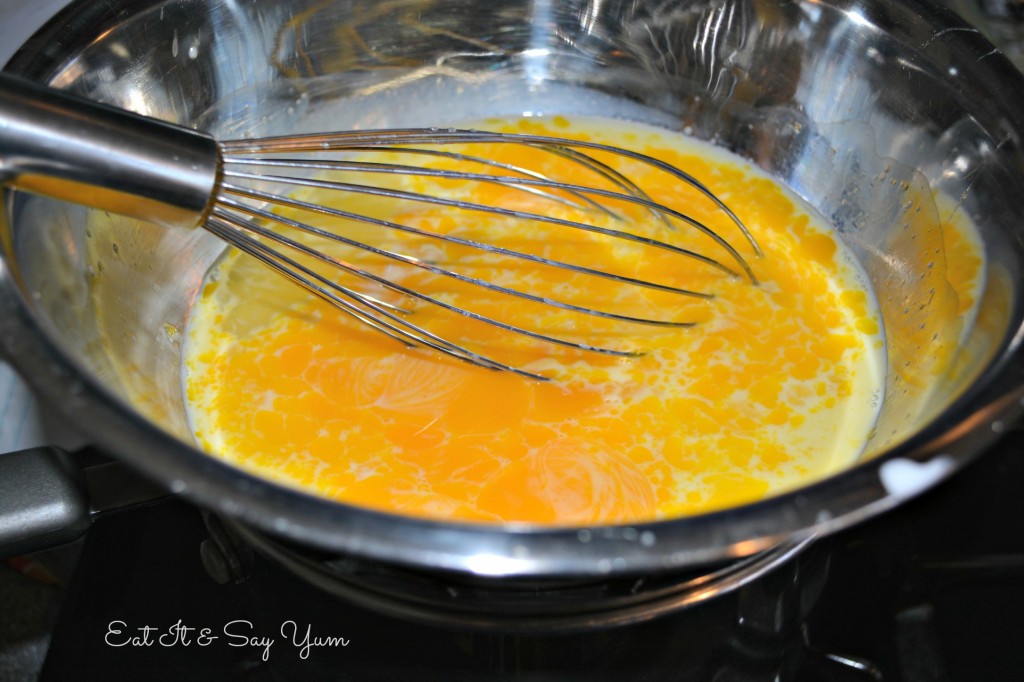 You heat the eggs and milk over a double boiler.  You also need a large microwave safe dish to heat the cream and melt the chocolate.  Then you add these two mixtures together in the microwave safe bowl to mix.
Melt the butter in a 9×13 pan, and pour the bread cubes over that.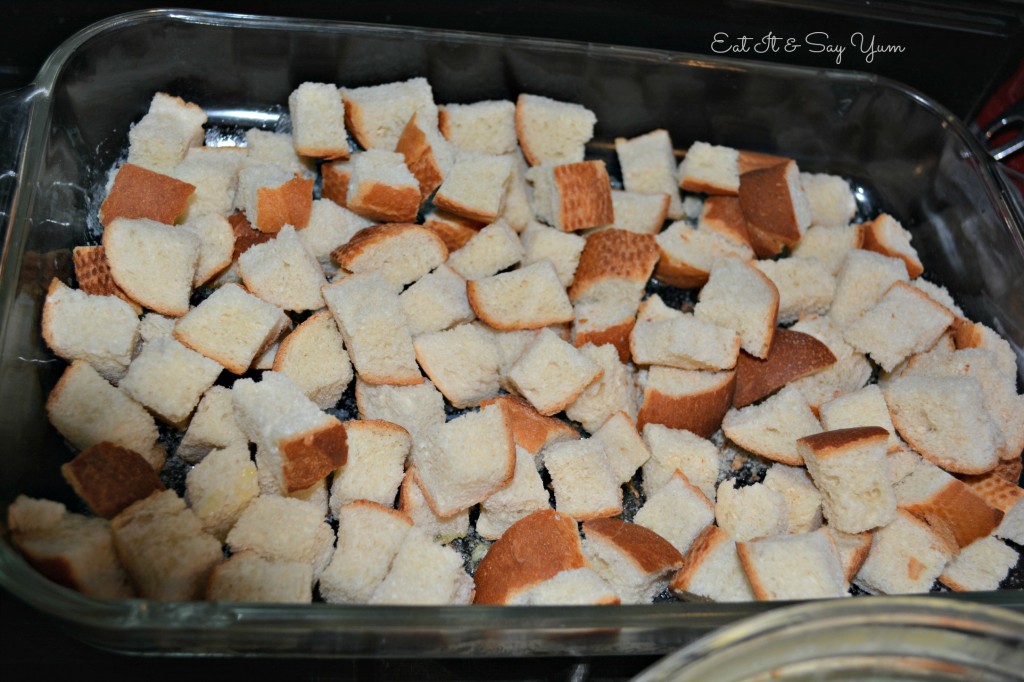 Pour half of the egg and white chocolate mixture over the bread crumbs.  Stir the cubes around so each side gets wet.  Then allow to sit for 15 minutes.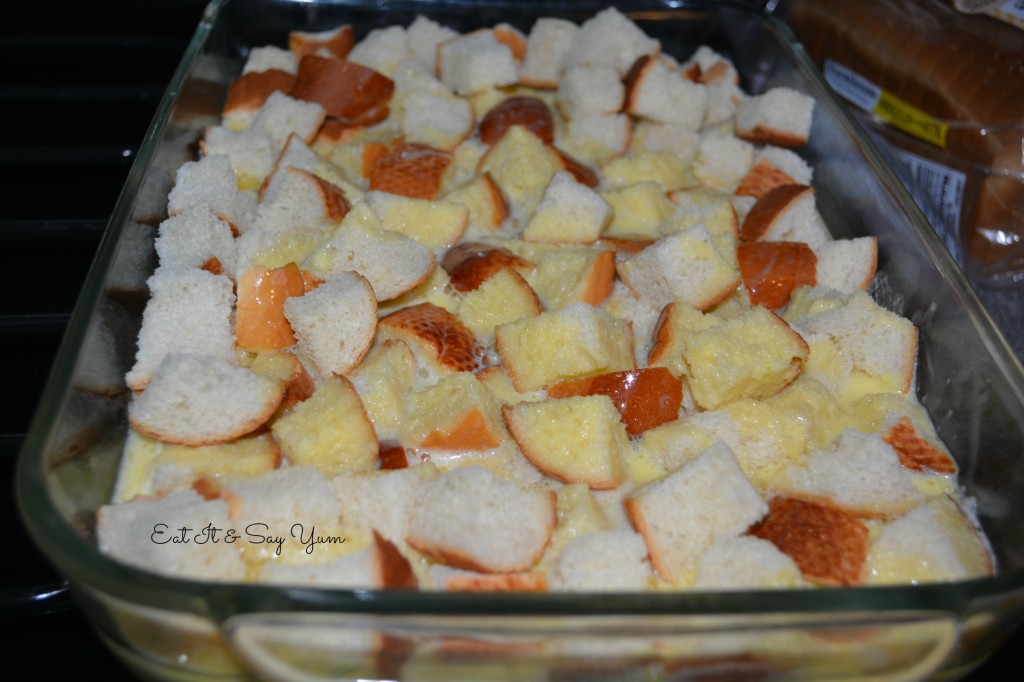 This is after 15 minutes.  Most of the liquid has been absorbed by the bread cubes.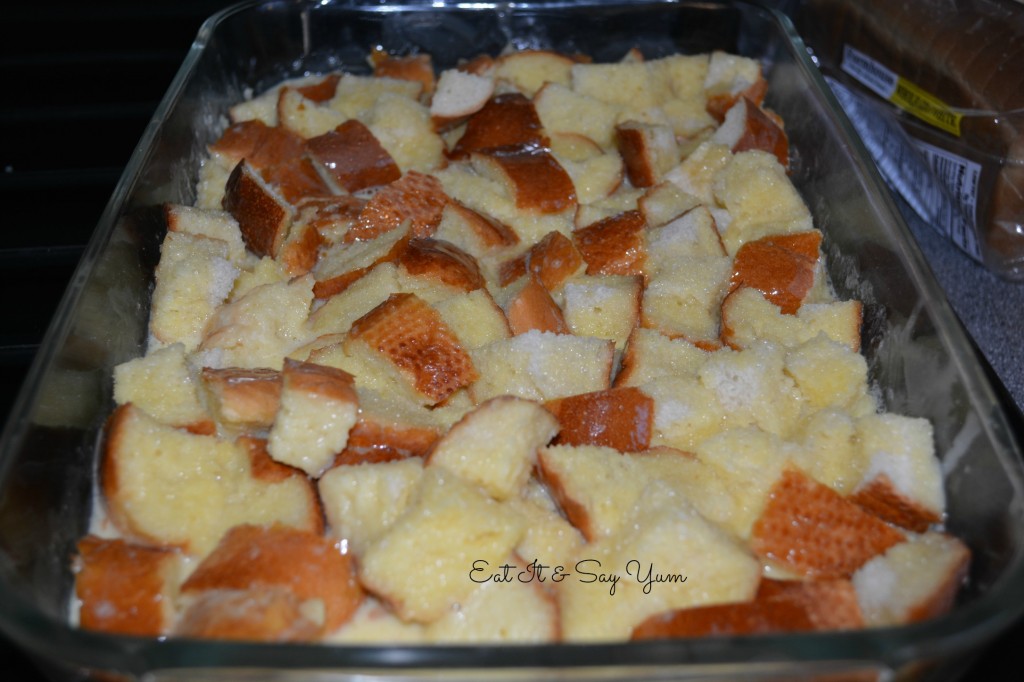 Then bake for 1 hour, covered with foil.  Remove the foil and bake an additional 15-20 minutes.  The tops should be starting to brown a little.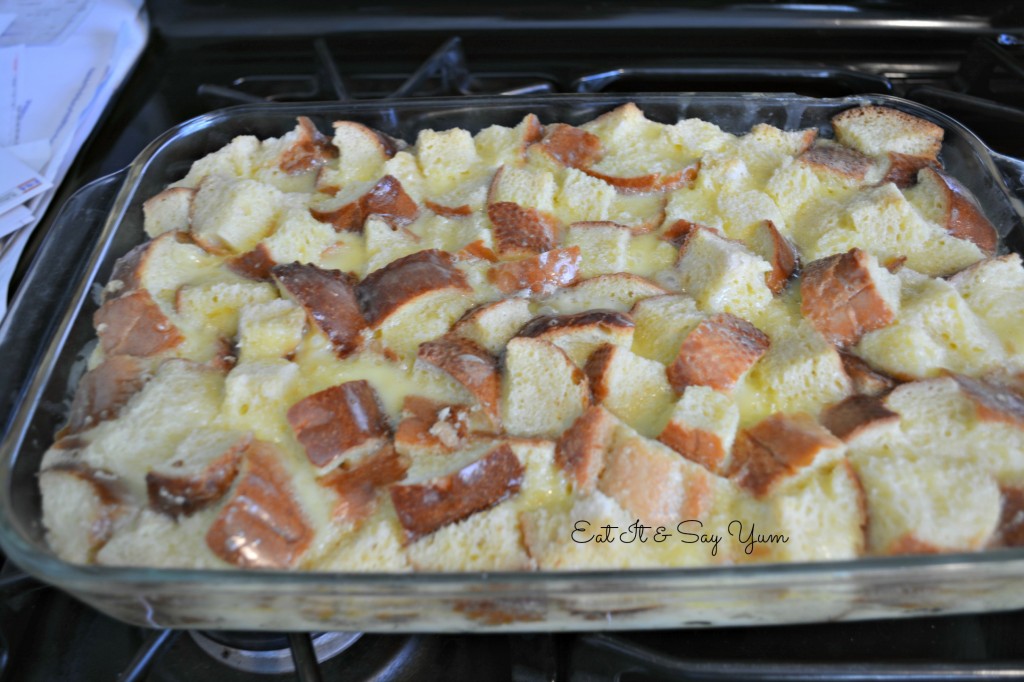 The sauce is super easy.  Microwave the remaining white chocolate with the remaining cream, and stir until smooth.  Drizzle over the top of each serving of bread pudding.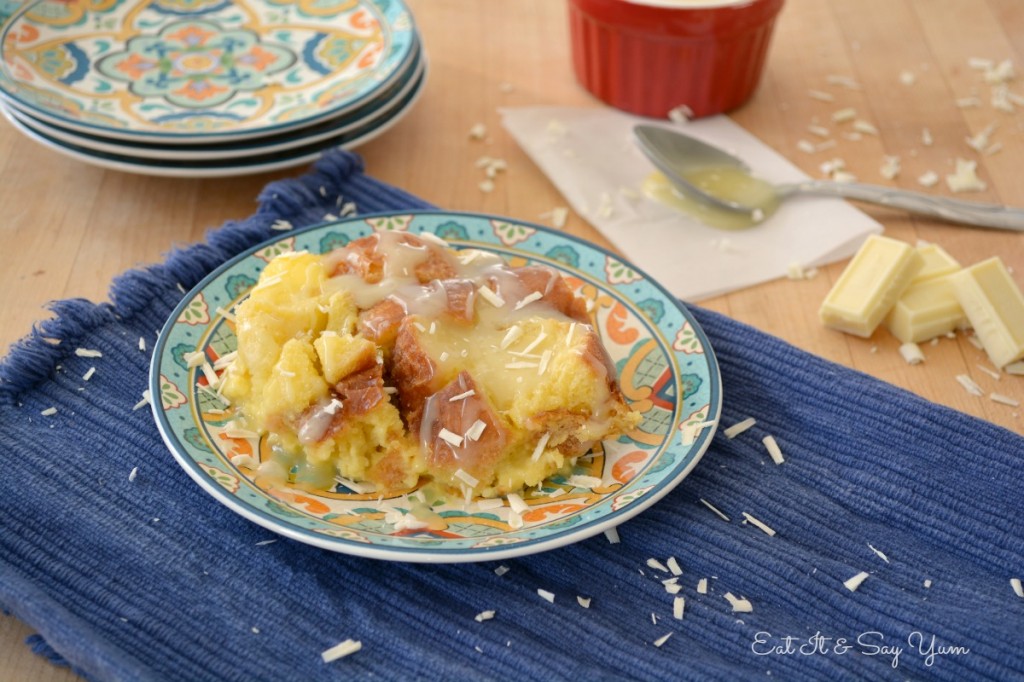 White Chocolate Bread Pudding with White Chocolate Drizzle
Ingredients
3 Tbs butter
3 cups heavy cream
10 oz white chocolate
1 cup milk
1/2 cup sugar
2 eggs
8 egg yolks
1- 1 1/2 loaves french bread (cut in cubes and dried in oven for 3+ hours, or on the counter for 1+ days)
Sauce: 8 oz white chocolate
1/3 cup + 2 Tbs heavy cream
Instructions
Pre-heat oven to 275 degrees. Put the butter in a 9×13 pan and place in oven just until butter is melted. Remove from oven and pour dried bread cubes into the pan. Set aside.
In a large microwave safe bowl heat the cream til very hot, but not boiling, about 3 minutes. Add the 10 oz of white chocolate and stir until melted and smooth. Set aside.
In the bowl of a double boiler over hot water, heat the sugar, milk, eggs, and egg yolks until warm, about 2-4 minutes, whisking occasionally. Pour this egg mixture into the cream mixture and stir to combine.
Pour half of the egg and cream mixture over the bread cubes, using a fork turn the cubes until they have all been covered. Allow the cubes to sit for 15 minutes.
Pour the remaining egg and cream mixture over the cubes and cover the pan with foil. Bake in the 275 degree oven for 1 hour. Remove the foil and bake an additional 15-20 minutes, or until the tops start to turn golden brown.
Sauce: In a medium microwavable dish heat the remaining cream and white chocolate, about 1 1/2 minutes, in 30 second intervals. Whisk together until smooth.
Serve the bread pudding warm and drizzle each serving with the white chocolate sauce.
Store leftovers in the fridge, covered.
http://eatitandsayyum.com/white-chocolate-bread-pudding-with-white-chocolate-drizzle/
This is best served warm.  Left overs should be stored in the fridge, covered.