I love making festive treats for the different holiday seasons.  Halloween always seems to sneak up on me and is over way too fast.
I am always worried about the kids costumes.  Each year I dream of making my kids some fabulous costume, but, inevitably, I run out of time (or motivation) and we end up throwing something together last minute.  Last year I was a little more organized, and actually started working on costumes a few weeks in advance.  But still, it came down to the wire and I was sitting at my sewing machine minutes before we walked out the door to go trick or treating.
If I can't get my act together with costumes, at least I can pull off some yummy treats!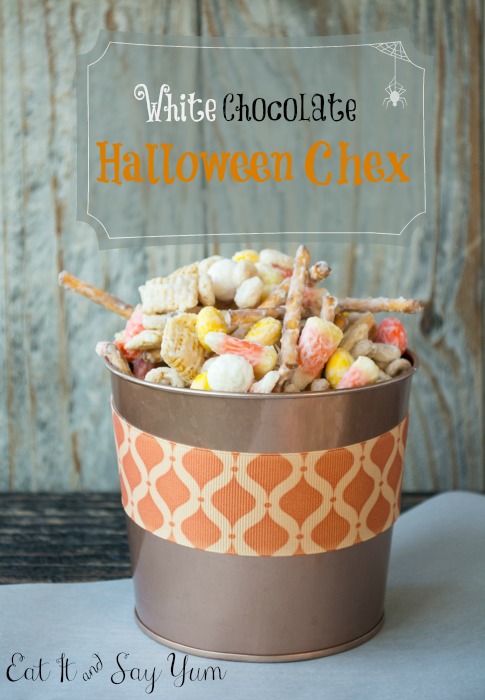 This chex mix is really easy to make.  I mean, even my kids could handle it.  And it is super fast, too.  And, don't even get me started on how addicting it is.  Oh man.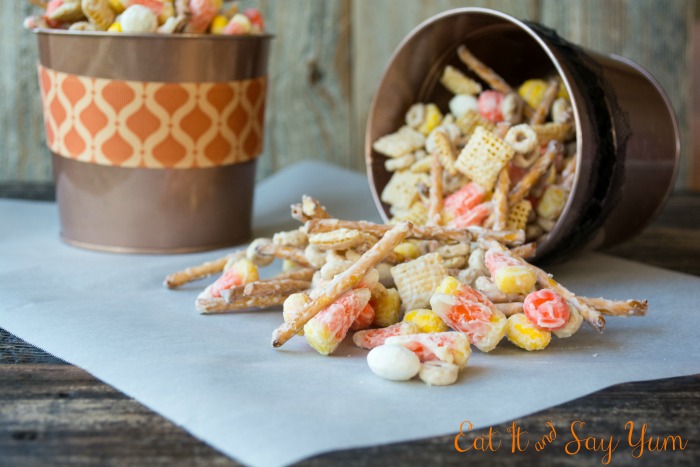 There are chex cereal, cherrios, pretzel sticks, candy corns, and m&m's in here.  Then all of that is covered with white chocolate.  I love the sweet and salty combo.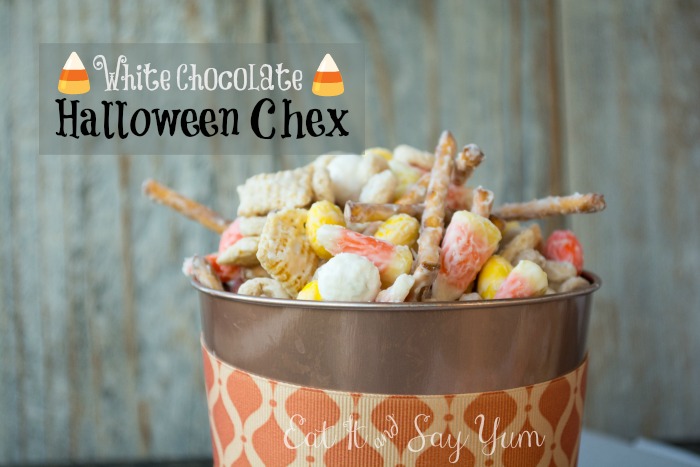 This could make a great gift to give to friends, neighbors, or teachers.  Just a little festive treat.  🙂
White Chocolate Halloween Chex
Ingredients
12 oz white almond bark
1 Tbs vegetable oil
2 1/2 cups cheerios
2 1/2 cups chex cereal
3 cups pretzel sticks
2 cups candy corn
2 cups m&m's
(can double everything for a larger batch)
Instructions
In a large mixing bowl combine both cereals, the pretzels, candy corns, and m&m's. Toss together to mix.
In a medium size, microwave safe bowl, melt the almond bark and the oil together. Heat for 1 minute in the microwave then stir. Repeat this process in 30-60 second intervals until it is melted and can be stirred smooth.
Pour the melted bark over the cereal mixture and stir to coat, using a rubber scraper. Pour the chex mix out onto wax paper, or onto greased parchment paper. Let cool, then break into pieces and eat.
http://eatitandsayyum.com/white-chocolate-halloween-chex/
What is your favorite Halloween treat?
And in case you were wondering ('cause I'm SURE you were!), here are my sweet kiddos last year on Halloween.  Yep, these are the costumes I was sewing them out the door in.  Hopefully it's obvious, but can you guess our theme?!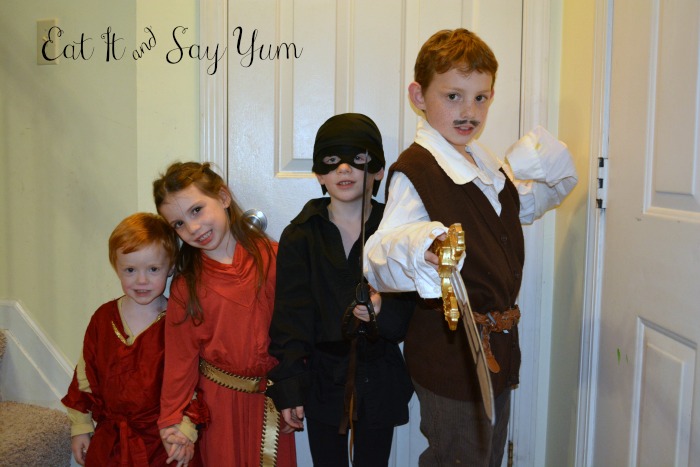 You can find the recipe near the bottom of the page.
See which parties I like to join.
You might also like: