A few summers ago, I was visiting a friend, and she introduced me to Popcornoplis Zebra Corn.
It was delicious, and I have been craving it ever since.  I've tried to find it in the stores, but it has proven difficult to find.
So, naturally, I just made my own.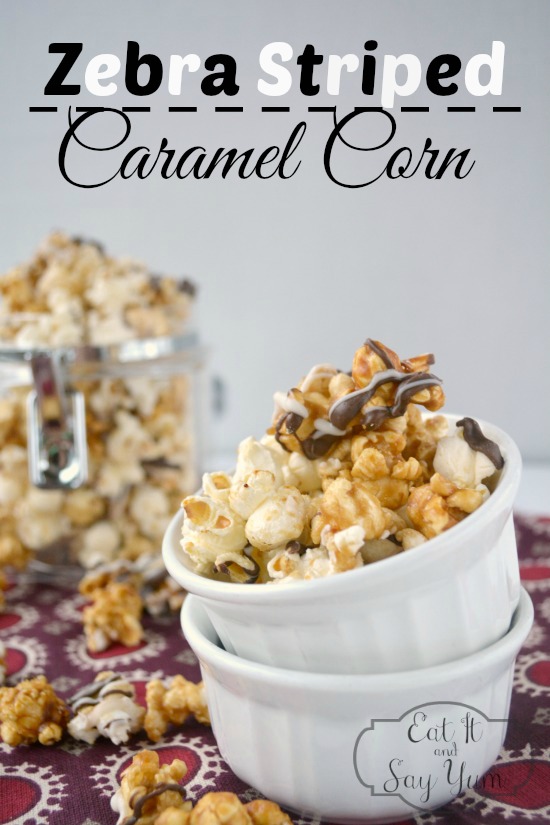 Zebra striped caramel corn is caramel corn with melted white chocolate and milk chocolate (or dark) drizzled across the top.  That makes the 'stripes.'
It's so simple, I don't know why I didn't think of it years ago.
And who doesn't love caramel and chocolate?  They really go great together.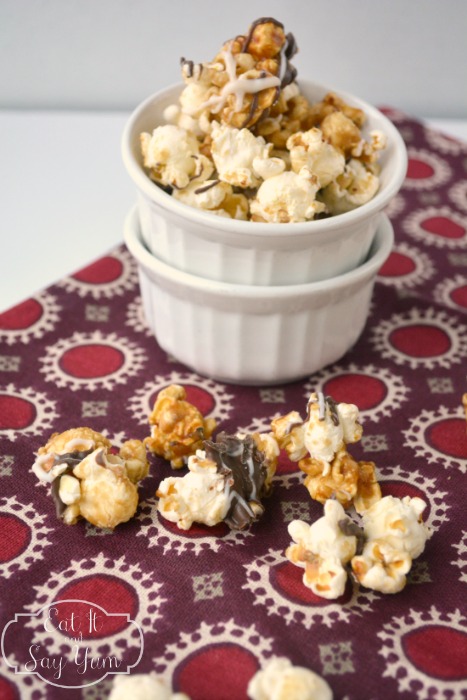 The caramel corn is nice and crunchy, so it works perfectly with the melted chocolate.  I think ooey gooey caramel corn wouldn't let the chocolate set up right.  But this recipe turns out perfect.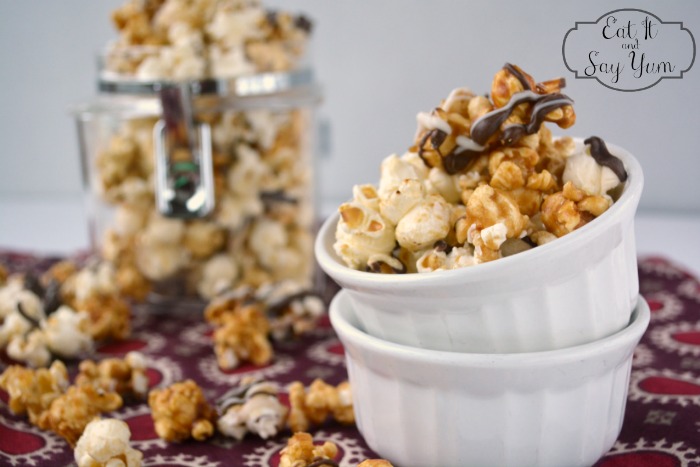 I already had a fabulous caramel corn recipe, so this change was super easy.
For the caramel corn recipe, you make the caramel in the microwave, then pour it over the popped popcorn inside a large brown paper grocery bag.  Then microwave again, a few more times.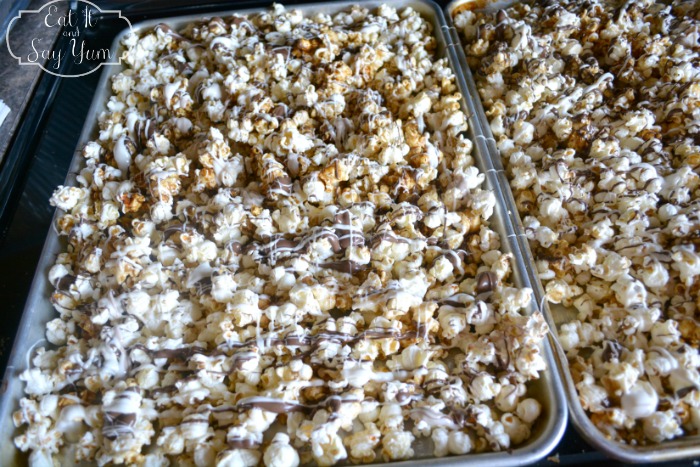 You pour the caramel corn onto greased cookie sheets to cool, and then just drizzle the melted chocolates over top.  I actually prefer to use almond bark for this treat.  Typically I would choose real chocolate, but in this case, I want the chocolate to set up well.  So, almond bark was a good solution.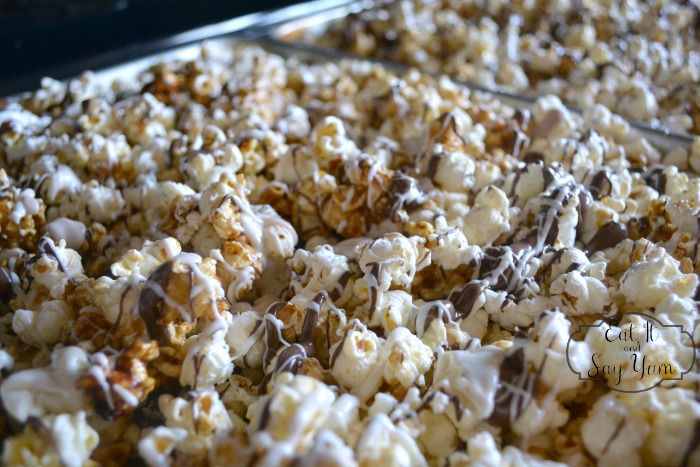 Let the chocolate cool and then break the caramel corn up into pieces.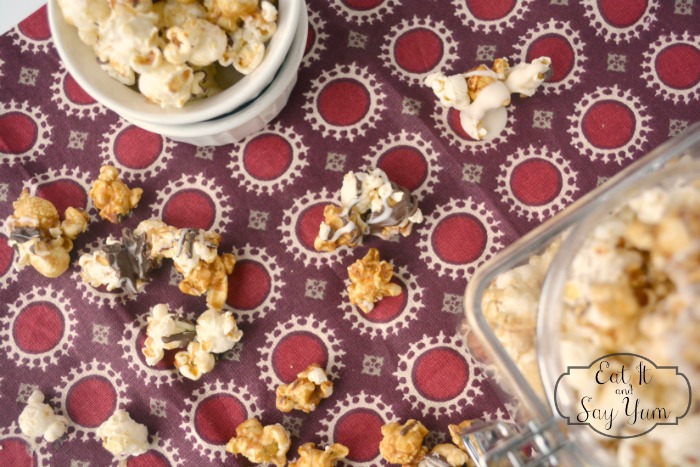 Those chocolate flavors add a lot to the caramel corn. You could even add some chopped nuts, or toffee as well.
Zebra Striped Caramel Corn
Ingredients
1 cup brown sugar
1/2 cup butter (1 cube)
1/4 cup corn syrup
1/4 tsp salt
1/2 tsp baking soda
1 tsp vanilla
1 gallon popcorn (that's popped popcorn!)
6 oz vanilla almond bark (or white chocolate)
6 oz chocolate almond bark (or milk/ dark chocolate)
Instructions
Pop your popcorn, until you have 1 gallon. Carefully pour the popcorn into a large brown paper grocery bag, while keeping any un-popped kernels out.
In a microwave safe mixing bowl, add the brown sugar, butter, corn syrup, and salt. Cook 1 min. 45 seconds in microwave. Stir to combine. Return to microwave for 1 min. 30 seconds. Stir, then add baking soda and vanilla, stir again. Pour over popcorn. Jostle the bag while pouring the caramel to help coat all the kernels.
Roll the top of the bag down (to close it) and shake again. Place the rolled down bag in the microwave and cook for 1 min. 15 seconds. Shake the bag again. Return to the microwave 1 last time for 1 minute 15 seconds. Shake again, then dump out onto a greased cookie sheet.
In a separate microwave safe bowl, melt the white chocolate almond bark. Use a spoon to drizzle it over the caramel corn. Repeat this process with chocolate almond bark.
Let the zebra striped caramel corn cool until the chocolate is set. You can stick it in the freezer for a minute or two, if you want, and have the freezer space. Then break the caramel corn up into pieces, and serve.
http://eatitandsayyum.com/zebra-striped-caramel-corn/
To keep the Zebra Striped Caramel Corn fresh, store it in an air tight container.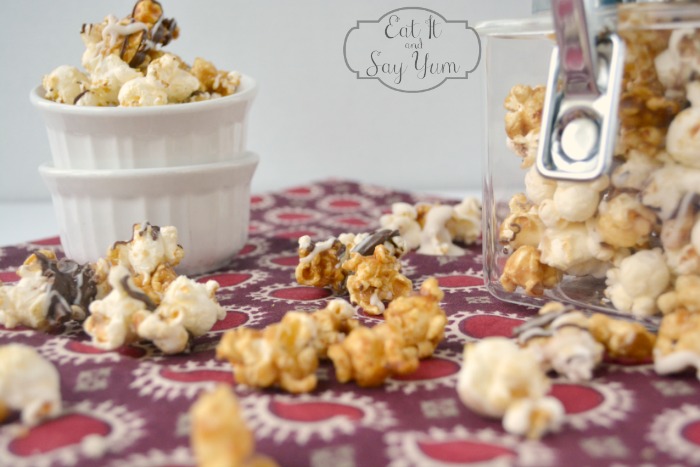 I served this at a backyard movie night with my family, and it was a hit.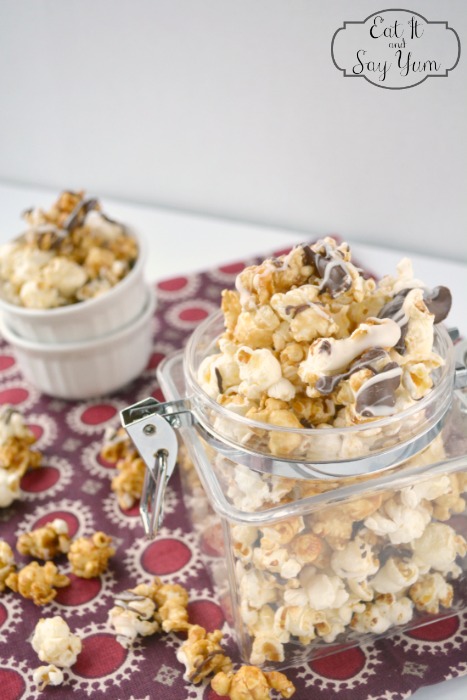 Bonus, it really doesn't take a long time to make, and it makes a lot of caramel corn.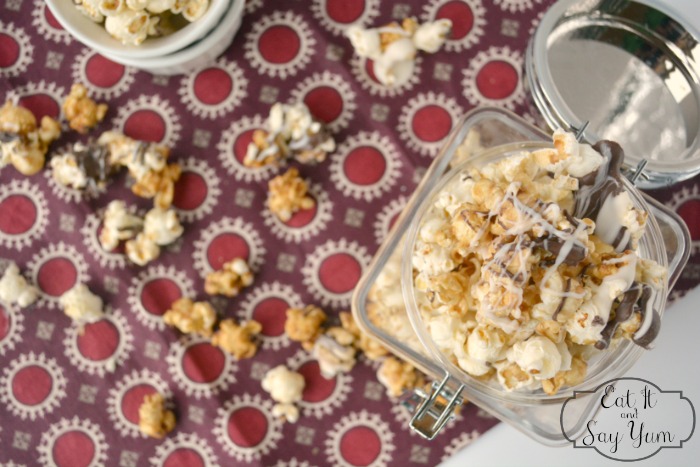 So you can easily feed this to a crowd, without spending lots of time in the kitchen.
Sweet!  😉
Please follow Eat It & Say Yum so you don't miss future posts.
See where I link up.