Delicious pancakes made with grated zucchini, and they taste amazing.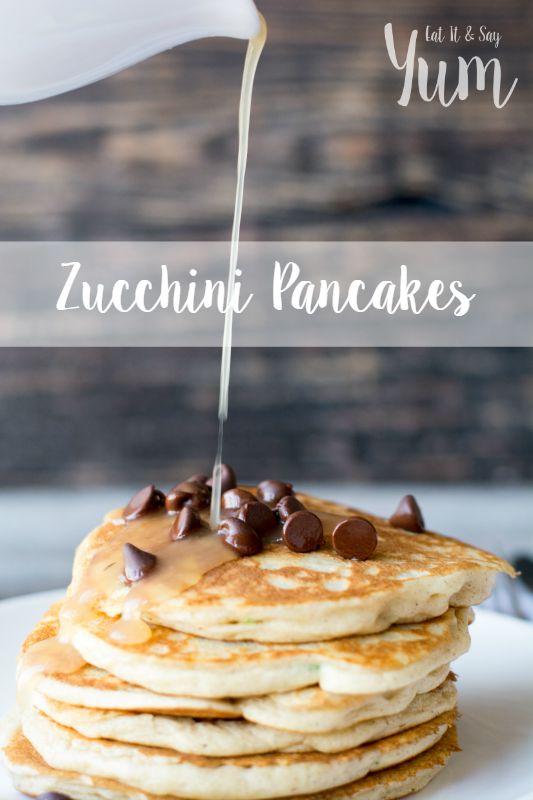 As a mom, I'm always on the lookout for ways to incorporate more vegetables into my kids diet.   And if there is a way to make delicious pancakes a little healthier, then I'll do it!
Of course you don't HAVE to serve these chocolate chips or even syrup, if that's not what you want.  But I love both of those things, so why not?!  Kinda negates the 'healthy' aspect of these…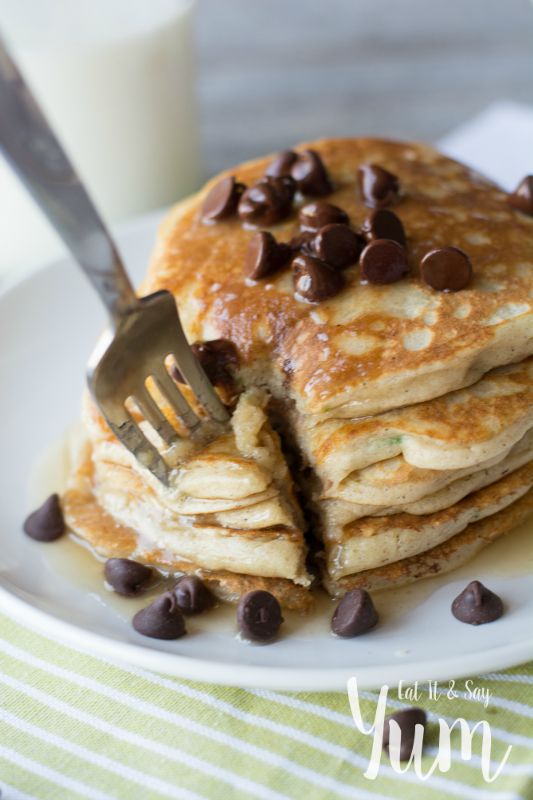 Anyway, my kids gobbled these up.  So did I.  Pancakes are always a BIG hit at my house.
The easiest way to incorporate the zucchini is to grate it.  It makes the pieces nice and small, so there really isn't a difference in texture for the pancakes.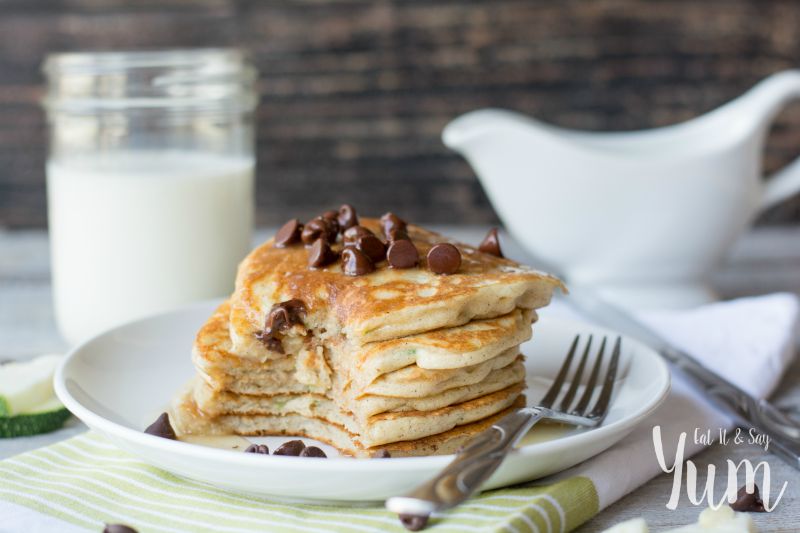 Ingredients
1 2/3 cups buttermilk
1 tsp baking soda
3 eggs- whites separated
1 1/2 cups flour (wheat flour can be substituted for all-purpose)
1 tsp sugar
1 tsp baking powder
1 tsp salt
1 tsp cinnamon
1/2 tsp all-spice
1/2 tsp nutmeg
1/2 cup oil
1 cup grated zucchini
chocolate chips- for sprinkling over pancakes
syrup- try my buttermilk syrup!
Instructions
In a large mixing bowl, stir the buttermilk and baking soda together. Add the egg yolks to the buttermill, place the egg whites in a separate, medium sized mixing bowl. With clean beaters on an electric hand mixer, beat the egg whites until stiff peaks form. Set aside.
To the buttermilk mixure, add the flour, salt, sugar, cinnamon, baking powder, nutmeg, and all-spice. Mix with the electric hand mixer, just until the flour is combined.
Add the oil and grated zucchini and mix again, briefly. Use a rubber scraper to gently fold the egg whites into the batter.
Grease a hot griddle (about 350 degrees) and pour the batter on in the size of pancakes you want. I use a 1/4 cup measurer, and heap it slightly with batter. This makes a good size pancake, about 5 inches across. Cook for about a minute and a half, until the pancake batter has bubbled and is cooked around the edges. Flip the pancakes and cook the other side. Only flip once to maintain the fluffiness of the pancakes.
Serve immediately. Sprinkle the top pancake with chocolate chips and drizzle with syrup.
http://eatitandsayyum.com/zucchini-pancakes/
You might also like: